Face Paint
Special effects artist Karen Girard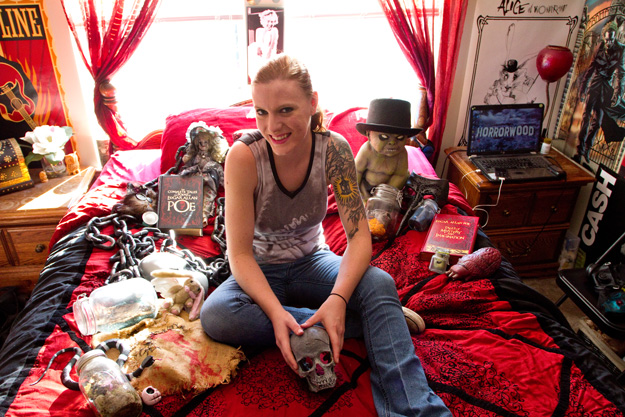 When she was little, KAREN GIRARD was terrified of anything having to do with horror films. "Even E.T. scared the crap out of me!" she says.
Then she figured out it was just special effects and realized it was what she wanted to do with her life.
"Plus I wanted the satisfaction of being able to scare people, too," Girard says.
She started playing around with makeup effects when she was thirteen, and soon enough she was obsessed.
Now Girard owns TWISTED CIRCUS PRODUCTIONS, a special effects makeup company based in Wilmington, where she's been a resident for seven years.
Through her company, she's worked on independent films with Bad Trip Productions and has done makeup consulting for WECT – even helping anchor Jon Evans learn to apply makeup for HDTV. She's also done makeup and painting for a handful of plays at local theaters such as The Browncoat Pub & Theatre including painting all of incarnations of the killer plant Audrey for a recent staging of Little Shop of Horrors.
Girard does not confine herself to only working with adults, as she's also coached classes for local high school productions.
"I love being given the chance to work with everyone and anyone," she says. "It's a growing experience, and I love being able to create with people that are as enthusiastic about their work as I am. I've taught a few basic special effect classes, tackled makeup on over 200 high schoolers from a hayride I helped design years ago, and makeup for anyone that calls me needing something specific. I'm kind of all over the place!"
Self-taught, Girard says she strives to improve daily.
"There are constantly ideas knocking about in my head, and sometimes it feels like I can't create them quickly enough," she says.
A fan of using products from Ben Nye and Kryolan, which are popular with makeup artists, Girard is equally
happy to be rather creative at times with her materials.
"I've MacGyvered some pretty random things together to make a few pieces, but they work," she says. "I use a lot of cotton, wires, fake skin, and occasionally I'll dabble with tissue paper for different textures. I have a cart stuffed with a huge collection of things I've bought from art stores that ranges from faux fur, textured beads, feathers, sand, pretty much everything you could imagine. I use what I can, and it's worked well for me so far!"
She also has an eye for detail – once spending eight hours on a head-to-toe, third-degree burn victim.
"This was before I had an airbrush machine so everything was hand painted, and it was still in my learning phase so it was a step-by-step process," Girard says. "I've done makeups on myself where I'll sit and work for about four to five hours straight. I'm a total perfectionist, and I doubt myself constantly so when I put out a piece of work I want it to look absolutely stunning."
Coming far from the little girl who was afraid of E.T., Girard is now a fan of horror filmmakers Tom Savini and Rick Baker, the Hannibal and Hellraiser film franchises, and has embraced the dark side of makeup. But she's also expanding into beauty makeup because she'd like to get into mortuary makeup eventually.
"For me it's all about the service. Being able to give someone's loved ones a last lasting final impression is something I consider a huge honor," she says. "It's the last time they get to view them, and I want to be able to give them the absolute best memory possible. I know it's an extremely taboo topic, and a lot of people cringe when I mention wanting to do it, but it's nothing to be ashamed of. It's an honor to be trusted with that service to the family, and I want to do the very best that I can offer."
Aside from makeup, Karen is also a gifted photographer, something she's been interested in since she got her first digital camera at age thirteen and took pictures of everything.
Now, when she does photo shoots of her makeup she's "all over the place with my camera."
"I do a lot of weird angles, and I encourage my models to be creative with their poses, the weirder the better," she says. "I put them through a mini horror boot camp, and we go through different types of macabre art. I have them study different looks of pain and postmortem photography because I want it to look as genuine as possible."
To see more of Girard's work, click here.