Expert Appeal: Interior Designer
Inside the home of Patti Baker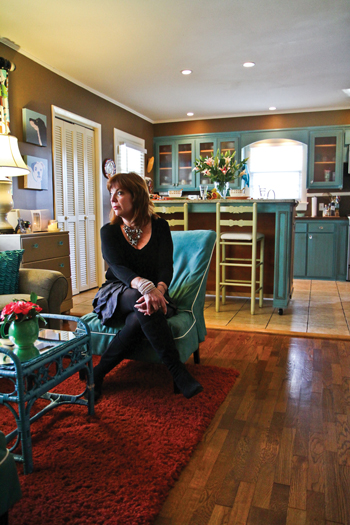 PATTI BAKER, interior designer, McKenzie Baker Interiors
Design aesthetic:
Eclectic with clean lines and not a lot of clutter for her own home, though she relies on a wide range of styles when working with clients. "I want my design for my clients to look like them and not me, so it needs to reflect their likes," she says.
Signature elements in both client projects and her home: Baker favors tailored elements, especially for things that can be costly to update like window treatments
and upholstery.
"Like a tailored suit, it will always be in style and you can make it more interesting with jewelry or scarves, but the suit never goes out of style," she says.
Her house:
Built in 1950 and renovated over the years. Baker downsized from a 3,400-square-foot Forest Hills house to this 1,300-square-foot cottage, prompting her to curate down to her favorite pieces.
"People always think because you're a designer you probably redesign all the time," she says. "The last thing that I really want to do because that's what I do all the time. When I'm at my house, that's not my top priority."
In the details:
Baker's favorite room in her house is her kitchen that spills into a den. The kitchen becomes the hub not just for meals, but also entertaining.
"We're usually in that room, whether it's a few or thirty people, because everybody wants to be right around that island," she says, referring to a kitchen island piece she had made.
The kitchen island started with a piece of furniture – originally a dresser or dining room console – that a friend gave Baker. With her kitchen in desperate need of more storage, Baker had an extension added on and a granite top to finish the piece and provide an informal eating area.
Baker hangs only original art around her home, including this commissioned piece of an ocean wave by her friend Elizabeth Singletary, who uses magazine pages to create mosaics. Most of the art Baker has on display is from local artists.
As an interior designer, Baker spends most of her working hours looking at home goods, so it takes something unusual to really catch her eye. These wood and paper mache puppet heads were such things. She came across them at the large, semi-annual antiques street fair in Cameron, N.C. last year and snapped them up to live on her mantle.
Baker had collected vintage tole painted trays for years, leading to quite a spread at her former house. When she moved and needed to pare down, she kept a handful of ones that were her favorites to hang in small clusters on her new home's walls and then one Christmas gave much of the rest of the collection away to her closest friends and family.
To view more of photographer Keith Ketchum's work, go to www.keithketchum.com.