Every Trick in the Book
Library finds novel ways to get kids involved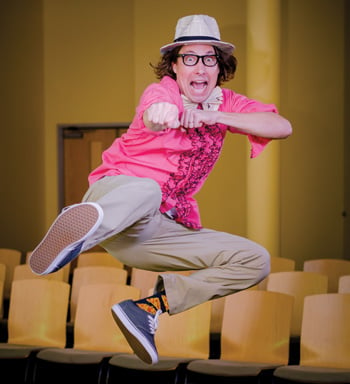 The library isn't usually associated with rap or comedy, but thanks to Youth Services Librarian SCOOTER HAYES, New Hanover County Library is an exception. Hayes has helped form fun and interesting events to appeal to children from babies to teens.
"There's more to being a librarian than just putting the right book in children's hands," Hayes says.
The rap club meets monthly at each New Hanover County Library branch for kids ages eight to twelve. About fifty different kids recorded the latest album, which will be for sale at the Kids Music Fest this summer in Kure Beach.
"Research shows that those with better rhyming skills make better readers," Hayes says.
The non-traditional librarian attended the communications program at University of North Carolina Wilmington with several other now popular local entertainers such as magician Michael Rosander and radio personality and general manager Beau Gunn. The group traveled around local schools performing speeches and stories for children.
"It's when I realized working with kids is my niche," Hayes says.
Hayes hopes to use his connections to help further new club ideas.
"We'd like to get a program involved with Hawkstream Radio at UNCW within the next year," Hayes says.
Other clubs Hayes helped develop are a film club where kids gets the chance to make their own movie in three sessions that Hayes then puts on YouTube and the library's website. The library also started a comedy club in the beginning of March with improv games.
A new challenge was the teen fashion show Hayes organized in February that gave teenagers interested in fashion the opportunity to create unique designs using discarded library books.
Hayes' alter-ego character, Melvil Dewey, grew famous within the national library and education communities when ­­­­­­he released his YouTube video "The Dewey Decimal Rap," filmed at the downtown library location. With over a million hits on YouTube, the video has Hayes reinventing the father of the Dewey Decimal System by creating a silly, child-like character with a granny wig, sunglasses, and psychedelic hoodie.
Hayes hopes that the digital shift will help provide more local children with access to free technology, and he also plans to start a Minecraft club thanks to the library's access to an educational version of the ever-popular children's computer game.
He also wants to have an after-hours zombie lock-in party.
"The library is more than just reading. Literature is the foundation, but there is so much more to offer for kids in our community."
"Every one of us works together to enrich the lives of children in New Hanover County," Hayes says.
Bookmark
The library's annual Story Extravaganza is April 25 at the Northeast branch, 1241 Military Cutoff Road. Info: www.nhclibrary.org