Eventful Work
City official Kim Adams works to help make downtown a destination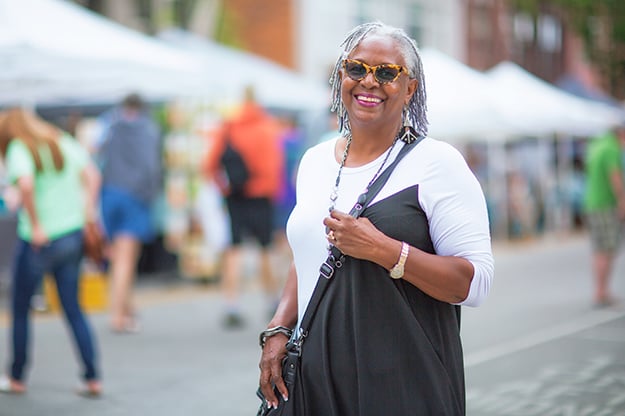 KIM ADAMS has been Wilmington's downtown services specialist for the past nine years, a function of which includes being city liaison.
In that capacity, she is responsible for ensuring events such as the North Carolina Azalea Festival, Riverfest, and Downtown Sundown Concert Series has logistical support from the city.
"Those events bring thousands of people downtown annually and impact our downtown residents and businesses greatly," Adams says. "The city logistical supports our planning ahead to handle the impact."
Originally from Pittsburgh, Adams received her bachelor's degree in journalism, public relations, and communications from Point Park University in Pittsburgh in 1984. Adams' decision to move to Wilmington was a happy accident.
"Basically, I wanted to move to Wilmington after visiting friends here in 2007. I was looking at Charlotte and Chapel Hill originally, but after coming to Wilmington, I fell in love with this city," she says. "It happens to a lot of folks I've come to learn. This city has that effect on people."
One of Adams' jobs is working with Rhonda Bellamy, executive director of the Arts Council of Wilmington and New Hanover County.
"We are focused on making Wilmington an arts destination," Adams says. "We recently hosted the successful Arts Summit (in April) in partnership with (the) Cape Fear Community College department of humanities and fine arts … There were thirty presenters that participated, and over 200 artists from around the region attended."
A successful project Adams has been involved in has been the Historic Downtown Wilmington Marketplace. It is also one of the most satisfying parts of her job.
"Each year the marketplace grows and gets bigger and better," she says. "Not so much because of the sales opportunity, but because of the marketplace managers (Suzette and Jackie Hawley and a small core of seven volunteers.) Currently, we have a waiting list of vendors who want to be a part of the marketplace. The energy of the marketplace is divine because of the people. There is this dynamic family energy that flows through the marketplace. It opened on April 17 downtown. Arts and crafts vendors boast record sales this year already."
The weekly event, on Sundays at Riverfront Park, runs through October.
The inspiration was the City Market in downtown Charleston, with local handmade jewelry, art, and other crafts.
"That was all the encouragement I needed," Adams says, "to round up the troops and start the marketplace."
They got to work, starting with the already existing Farmers' Market.
She says, "I first approached the farmers and asked that we expand the Farmers' Market once a month with all the vendors – those on the waiting list and all the Riverfront Park arts and crafts vendors. They said no. That was probably the best thing they could have done. So I met with the small group of Riverfront Park vendors and together, we determined the best day and time to create a downtown Marketplace. We started doing the Marketplace in the evenings and called it Sunday Scene. Eventually, the evenings became overwhelming so the vendors asked to move the time. That is what we did and have not looked back since."
To view more of photographer Chris Brehmer's work, go to www.chrisbrehmerphotography.com.