Environmental Health
New Expo 216 gallery combines art and museum elements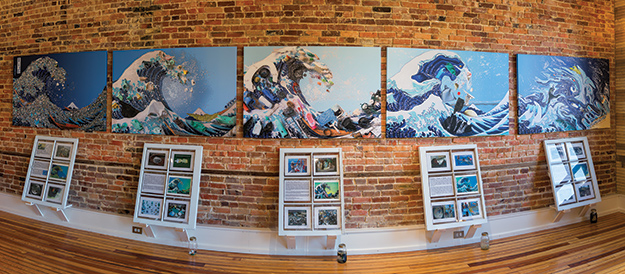 People with passion often point to that one "ahhah" moment that changed everything. For LINDA LOOK, co-owner and gallery manager of EXPO 216, it was the moment she saw David Liittschwager's photograph of a young albatross.
The animal's open belly revealed an array of plastics it had eaten from ocean waters: bottle caps, bits and pieces of containers, straws.
"That photo made such an impact on me when I saw it in the National Geographic Museum in Washington, D.C.," Look recalls.
"… When we tried to think of a project, I wanted to bring attention to this. And art has greater impact than a thousand scholarly articles," Linda Look says
This spring Look and partner, WADE HUGHES (left), opened a hybrid gallery and museum in downtown Wilmington – a "gallereum" if you will – that integrates art, fashion, and social action.
On the heels of Look's career in public policy research and Hughes' career in construction, they dove heart and soul into this themed concept. Each theme kicks off with a fashion show and evolves with interactive displays, original art, guest speakers, and musical events.
All themes will center on the environment and social awareness, Look says.
The first yearlong exhibit, "Ocean Plastic," features an interactive display, "CSI Albatross," curated by nature photographer Liittschwager. Beth Terry, author of Plastic Free, was the opening guest speaker, and Bonnie Monteleone, ocean advocate and president of the Plastic Ocean Project in Wilmington, is the principal guest artist.
The museum component includes informative panels, media loops, and commissioned art to expand the theme. Gallery pieces, some for sale, are from local and national artists.
The building at 216 North Front Street was renovated to accommodate the venue, repurposing wood and other materials from the original construction.
For the first fashion show, a cadre of mannequins wore plastic creations, the work of four different artists, in a display of our throwaway habits. Straws, plastic utensils, and packaging were incorporated. A dozen local artists are contributing to the first expo in an ongoing tide, according to Look. At the end of the yearlong exhibit, a silent auction will be held, and the proceeds tilled into the next expo.
Future expos include the themes of animal welfare, death and dying, yoga and meditation, butterflies and pesticides, relationships, and population.
Expo 216, a nonprofit, is teaming up with the North Carolina Aquarium at Fort Fisher, Surfrider Foundation, Cape Fear River Watch, University of North Carolina Wilmington, Cape Fear Community College, and Arts Council of Wilmington and New Hanover County. And DREAMS Center for Arts Education will do a class, creating plastic water animals.
JARED SALES, gallery liaison, is also Rise Above Plastics coordinator and The Coastal Collective manager. Community activism is an intrinsic part of the plan. He says he has stopped using straws and now asks businesses to reduce plastic usage, an about-face from his food service days.
"We're impressed with how the community has come forward," Sales says. "People have volunteered to be a part of it. We want to bring out the families. It's the kids who will be stuck with the results (of plastics in the environment)."
"If we could bring an awareness to plastic debris … it makes you think and behave more responsibly," Look says.
---
Expo 216 Ocean Plastic Artists
DAVID LIITTSCHWAGER, nationally acclaimed wildlife photographer, provided photographs and artifacts from his expeditions in the Northwestern Hawaiian atolls, forming the basis of the interactive "CSI Albatross" exhibit that includes forensic activities.
BONNIE MONTELEONE, local guest artist, brought her traveling "What Goes Around, Comes Around" exhibit and new displays from her Plastic Ocean Project group.
USTIN CAMPBELL and BRYAN STACY, both local artists, provided commissioned pieces, a yellowfin tuna sculpture in wood and metal (above) and a seven-panel mural of ocean gyres, respectively. The mural describes a gyre and how it attracts debris.
KATHERINE WOLF WEBB created three spectacularly internally lit, hanging jellyfish lanterns.
Nine fashion designs (shown above) debuted on the runway on March 30 in an event hosted by Wilmington Fashion Week. Designers are: LESLEY and SERGEY TAMAEV with Rove and Roam, NEELY CALDWELL, ELIZABETH WORKMAN, and ELIZABETH ROSE. All designs demonstrate a plastic issue.
To view more of photographer Chris Brehmer's work, go to www.chrisbrehmerphotography.com.