Entertaining Touches
Spoonfed adds festive details to the holidays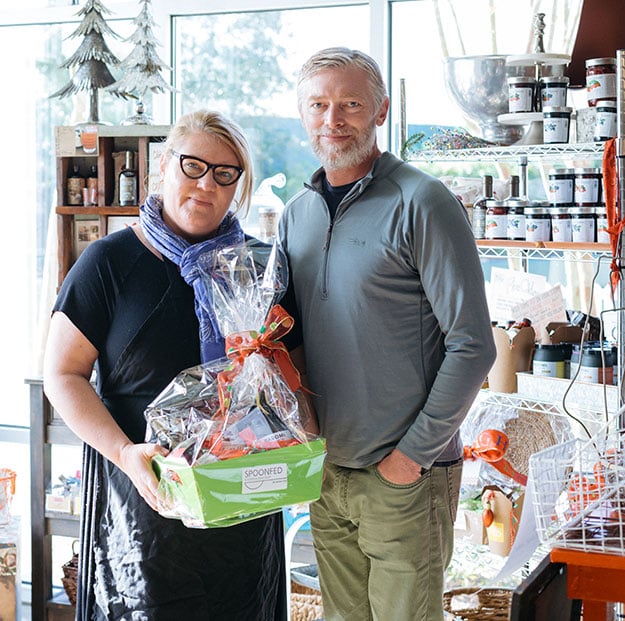 KIM and MATT LENNERT's combined and extensive restaurant background eventually led to their successful Chicago-based eatery and catering company Moveable Feast.
But, they wanted to make a change – and to live at the beach. After selling their business, which is still run by former employees, they opened SPOONFED KITCHEN & BAKE SHOP in Lumina Commons earlier this year.
In some ways, it is a change of pace. While Moveable Feast had a homey setting in an historic building, they wanted to create the vibrant, bustling vibe of an open kitchen at Spoonfed. Their previous business offered high-quality, to-go fare, a specialty market, and catering. The new spot at 1930 Eastwood Road near Wrightsville Beach has added more seating for customers enjoying their breakfast- and-lunch menu and the ability to host events like wine dinners with some fine-dining creativity.
The many aspects of their business mean that Spoonfed will likely be a popular spot this holiday season. And, the Lennerts are using their entertaining expertise to raise spirits in ways that can benefit parties of all shapes and sizes. Look for "success party bags" at the store, for example.
"They'll have some interesting pantry staples," Kim Lennert says. "When people drop by, you can feel like there is something unexpected to serve."
One of her interests is finding a selection of up-and-coming cheeses, salsas, condiments, and extras for the market at Spoonfed. She's always on the hunt for things you can't find just anywhere. "It's something I love to do," she says.
During the holidays, Spoonfed's baked goods (cookies, lemon bars, salted caramel crispy rice treats) will include more pies, cakes, and cheesecakes, including vegan and gluten-free options. The Christmas and New Year catering menu includes breakfast items, appetizers, soups, and entrees you can order to make holiday prep easier: gingerbread scones filled with jam, beef tenderloin with cabernet gravy, or Buche de Noel with chocolate ganache and peppermint cream.
After their first several months in business, the winter season is also when they'll be experimenting with adding occasional evening events. Their first wine dinner in November featured a five-course meal paired with wines from one of Matt Lennert's new favorite wineries and an Australian winemaker guest.
"We're going to see how it goes and get to know what locals are looking for," Kim Lennert says. Eventually, they might host one a week – some fine dining and others with a more casual menu that includes burgers or soups, Matt Lennert adds.
On December 7, Spoonfed will host a candlelit dinner with table service, featuring a farm-to-table menu. For those who can't make that, a hot chocolate festival will likely continue into January. Kim Lennert says it will include additions to the hot-drink menu and kits that people can take and make at home, incorporating unexpected twists of chili and orange, perhaps.
Favorites with unique flavors is a common theme at Spoonfed.
The philosophy is to offer wholesome, delightful food, made with local and organic ingredients when possible. The menu features burgers and sandwiches, including innovative twists on grilled cheeses, such as the spinach-and-artichoke or a morel-and-leek with smoked ham. There's also an ever-changing offering of salads and sides in the deli case: roasted carrot salad with goat cheese, the Spoonfed take on Waldorf, and tuna salad with olive oil-poached fish.
"This is the kind of food I like to eat every day," Kim Lennert says.
The couple met in 1990, when they were both working in restaurants. While they loved their Chicago place, the salt air beckoned. They thought Wilmington was just the right fit for the family.
The Lennerts have an eleven-year-old daughter, who is home-schooled and can often be found at the restaurant with her parents.
"She really learned a lot though the process of opening a restaurant," Matt Lennert says. "And, she's the best coffee maker we have," Kim Lennert adds.
While Spoonfed is a family interest, so is helping others entertain. Kim Lennert is willing to offer party planning advice.
"I tell people to do what they love to do," she says.
If that's cooking, maybe prepare one or two favorite dishes and work with someone else to provide the extras. If that's decorating and flowers, concentrate on that, she advises. And, maybe hire a server to help out for a low-stress holiday get-together.
Another party idea she likes is a "grazing table," setting out a selection of nibbles and food that can be served at room temperature that is easy to replenish during the gathering.
"This is such a good way to do it," she points out.
To view more of photographer Erik Maasch's work, visit https://ejmphoto.co