Endless Summer
June Men's Room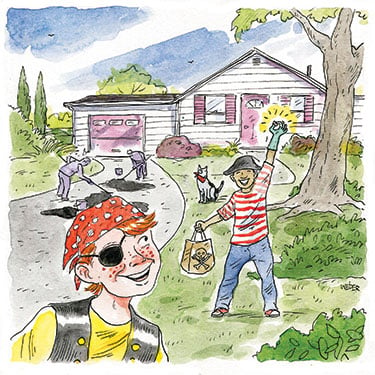 Like most parents, you're stressing over how to keep the kiddos occupied this summer. Sure, they're signed up for a couple of week-long day camps and the whole family's road tripping by Winnebago to DollyWorld in August, but that still leaves weeks of unstructured time for your little rascals to get into mischief, distract you from important household projects, and just generally drive you nuts.
Here are some fun and educational activities to keep the kids busy while simultaneously helping you knock off items on your summer to-do list:
DOG POOP TREASURE HUNT: Draw skulls and crossbones on paper grocery bags, give the kids rubber "pirate" gloves, and set them loose in the backyard on a quest for Sparky's "booty." Whoever collects the most "bullion" wins.
PRESSURE WASH BATTLE ROYALE: Kids like playing with the hose and dousing each other with squirt guns, so they'll love shooting a water cannon at 2500 PSI, and while one wrong move could result in a disfiguring injury, the vinyl siding will never be cleaner.
INDOOR FOOTBALL: Rainy day? Bring the action inside. All it takes to clean those hardwood floors is a can of Pine-Sol, some lintfree socks, and a half-dozen hyperactive young 'uns.
PAINT SCRAPE RACE: A great activity to burn off excess energy and prep the windows for a fresh coat of paint. Also serves as a lead-in to fascinating history lessons on the dangers of lead paint and the importance of child safety legislation.
CONSUMER ZOMBIES: On those really hot days, take the whole crew to the mall. It's fun, free, and in the AC. First, go to a department store make-up counter and do the gang up as an undead horde. Next, you and your little zombies shuffle from store to store groaning, "Thiiings! Must have thiiiiiings!" As the mall cops surround you, use the opportunity to teach your kids about the limits of free speech in a corporatocracy.
IF YOUR KIDS LOVE SLIME, THEY'LL LOVE…TAR! That driveway isn't going to recoat itself this summer. Get your little ones busy spreading sticky, hot tar over those unsightly cracks and crevices.
THE KEEP POP ON HIS DIET GAME: Dad is Superman. Cake is kryptonite. Your kids' mission is simple: Don't let Superman die.
FILL IN THE HOLE THE DOG MADE: Great exercise for your kids and your dog since that hole will reappear every morning and need to get filled again and again!
WHO'S THE NEIGHBOR? DETECTIVE GAME: They moved in six months ago, and you've seen them at three neighborhood potlucks, so it's too late to ask their names. But not if you're in kindergarten. Send little Hunter next door to play Sherlock Junior. While there, he can also innocently ask what they paid for their house, if they plan to buy curtains at some point, and could they possibly turn the volume down on their love life squabbles during his naptime.
NOTE: The above list guaranteed to keep youngsters occupied for approximately 2-3 hours.
To view more of illustrator Mark Weber's work, go to www.markweberart.blogspot.com.
Dylan Patterson is a writer and filmmaker who teaches English at Cape Fear Community College.