Elevated Holidays
Twists on traditional dishes for the dinner table this season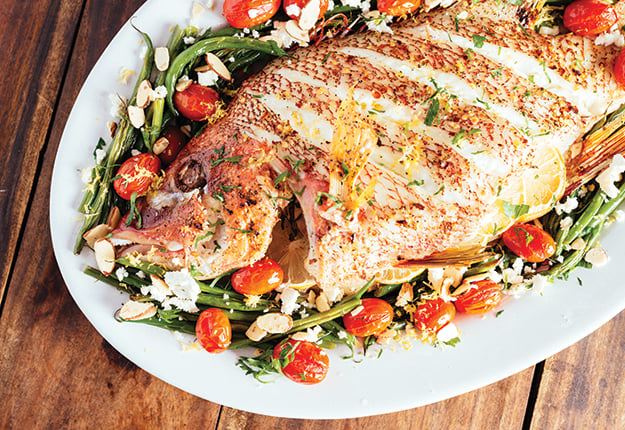 ­For some, the holidays are no time to mess around in the kitchen. Stick with those tried-and-true dishes, and all is well.
But local cultural and culinary experts say that traditions can change and evolve over time.
Take, for example, the fish dish that is a favorite of chef LORI EATON.
It's something she started to learn as a child, fishing and cooking whole trout with her father. Over the years, she's added Mediterranean flavors, and it's now a favorite for Feast of the Seven Fishes celebrations (above).
Here is that recipe and few other (perhaps new) holiday traditions to try.
Stuffed Holiday Snapper
This Feast of Seven Fishes dish, from Eaton of Eaton at Home culinary services, can be made with a variety of whole local fish – and is perfect for the holidays with its "wreath" of red and green vegetables.
(Serves 4)
1 3-pound fish, gutted and scaled
2 lemons, zested, sliced, and seeded
½ cup Kalamata olives, pitted and slivered
2 tablespoons capers, drained
1 small bunch fresh oregano
½-¾ cup extra-virgin olive oil
Pinch of red pepper flakes, optional
Kosher salt
Cracked black pepper
1 pound green beans, trimmed
1 pint cherry tomatoes
2-3 cloves of garlic, peeled and sliced
¼ cup almonds, toasted and slivered
4 ounces ricotta salata, crumbled
2 tablespoons butter (preferably European style)
Small bunch of fresh parsley, minced
DIRECTIONS: Preheat oven to 400 degrees. Lay the fish on cutting board and be sure all scales were removed by your fishmonger.
Carefully make diagonal ½-inch slices on each side of the fish. Lay lemon slices inside the cavity. Top the lemon with olives, capers, and oregano. Then add a top layer of lemon. The fish should be full at this point.
Drizzle a bit of olive oil in your baking dish and place the fish in the dish. Drizzle with about ¼ cup of olive oil and season with red pepper flakes, salt, and pepper. Put the fish in the lower rack.
Place the vegetables on a sheet tray and drizzle with the remaining olive oil, garlic, and season with salt and pepper. Divide the butter into little pieces and dot on top of the veggies. Place in the upper rack. Bake for 30 minutes.
To present, place the whole fish on a long plate and surround with the roasted vegetables. Top vegetables with almonds and ricotta salata. Sprinkle the entire dish with parsley and lemon zest. You may want to add a bit of cracked pepper and salt, or drizzle pan juices from the fish over the plate.
Curried Stew
ISLAH SPELLER, local African-American history expert and founder of the Burnett-Eaton Museum Foundation, believes that anyone can enjoy this satisfying stew that symbolizes the harvest and Kwanzaa ideal of living a healthy life.
(Serves 12)
1 medium onion, chopped
4 cloves garlic, minced
¼ cup olive oil
1 medium red bell pepper, chopped
2 tablespoons minced fresh ginger
2-3 teaspoons curry powder
½ teaspoon cinnamon
¼ cup tamari
1 24-ounce can tomatoes, with juice
2 small sweet potatoes, peeled and chopped
2 quarts water, plus 1 cup
½ pound broccoli, chopped
2 medium potatoes, peeled and chopped
1 cup each fresh or frozen corn, green beans, and peas
½ pound fresh kale, chopped
DIRECTIONS: In a large soup pot, sauté the onion and garlic in the olive oil until soft. Add the red pepper and ginger, and sauté for 2 minutes more. Stir in the curry powder, cinnamon, tamari, and juice from the tomatoes.
Bring to a boil, reduce the heat, and simmer for 5 minutes. Add the sweet potatoes and 1 cup of water. Simmer for 20 minutes. Add the broccoli, potatoes, and 2 quarts of water. Cover and simmer for 20 minutes.
Chop the tomatoes and add to the pot with the corn, green beans, and peas. Cook for 10 minutes. Stir in the kale and simmer 10 minutes more. Salt, to taste, and serve hot.
Apricot-Caramelized White Chocolate Macaroons
Coconut macaroons are a staple of many Hanukkah celebrations. LYDIA CLOPTON, pastry chef at PinPoint Restaurant, brightens the cookie with dried apricots and makes caramelized white chocolate for decoration.
(Makes 1 dozen)
2½ cups shredded coconut, toasted if you'd like a deeper flavor
½ cup finely chopped dried apricots
¾ cup sugar
3 egg whites, room temp
¼ teaspoon vanilla extract
DIRECTIONS: Preheat oven to 300 degrees. Mix all ingredients together in a bowl. Scoop out onto a sheet pan lined with parchment or a silicone mat.
Bake for 15-20 minutes, or until just brown. Cool. Decorate with chocolate (recipe below)
Caramelized White Chocolate
1 cup white chocolate
2 tablespoons cocoa butter
DIRECTIONS: Heat chocolate and cocoa butter on stove on very low heat, stirring. Once the white chocolate starts to caramelize, be vigilant about scraping the bottom of the pan so that it doesn't burn.
Pull off the heat once it's a nice light brown color. Strain through a fine mesh strainer. To decorate, dip or drizzle half of cooled cookie with the white chocolate.
To view more of photographer Erik Maasch's work, go to ejmphotography.org.