Elbow Grease
New networking group dives into a variety of life skills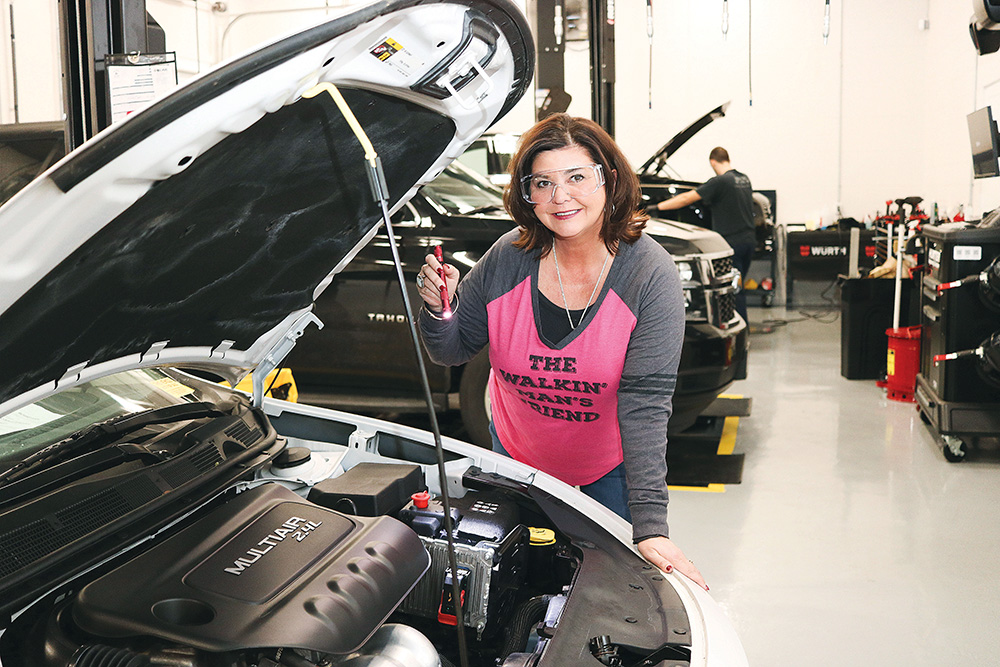 The idea for the GREASE MONKEY LADY GANG was born from group organizer PAM DISMUKES' bad car buying experience.
Over a two-week period last year, she and her seventeen-year-old daughter visited nine different car dealerships. She finally found a car she liked online, priced at $14,000. She visited the dealership, took a test drive, loved it, and wanted to buy it.
When Dismukes (above) began the purchase paperwork with the dealership, she noticed the car was priced at $19,000. She questioned it and was told the $14,000 price was a "typo on the internet."
Dismukes stopped signing the paperwork and said she was no longer interested. The response, she recalls, was a shock. "I understand you can't make a decision on your own, come back with your husband. I bet he understands the paperwork," she says she was told.
Dismukes left, almost in tears. The family turned to Facebook for recommendations, and within two hours, Steve Matthews, president of Matthews Motors, messaged back. Dismukes visited the lot and drove off with her new car just a few hours later.
Dismukes and Matthews became friends, and she now works at Matthews Motors. After reflecting on Dismukes' experience buying a car, she and Matthews wanted to find a way to educate and empower women.
So, they started the Grease Monkey Lady Gang. Its first class was in September when participants learned basic car care info: how to change a tire, check tire pressure, locate the lug wrench, jump start a battery, and pair a phone and car through Bluetooth. About twenty-five people were in attendance, including a few men.
Dismukes says men are welcome, but they must know the password, "Women rule the world," she says with a laugh. Participants received a swag bag and Rosie the Riveter-inspired Grease Monkey Lady Gang T-shirts.
"Knowledge is wealth," Matthews says. "An automobile is the second-biggest investment people make, and you need to know how to maintain it." Service director Mark Yandell led the car maintenance classes. "I look at it as the same way I'm trying to raise my daughter (who is eight years old)," he says. "I want her to be a strong and independent woman in this world. I want her to find partners in this life, but I don't want her to depend on anybody else for anything. If you're stranded somewhere or at another repair shop, you can help yourself and make a better, more informed decision."
Though new, the Grease Monkey Lady Gang is branching out to host programs in a range of topics that might be of interest to the women who show up.
Chef Susan Harkins, from Zest, taught a cooking class in October, and in January the group took a concealed carry weapons class – a class that sold out – with Dane Britt, at DB Guns and Ammo.
Grease Monkey Lady Gang's class this month is 11 a.m.-1 p.m. February 10, on the topic of credit repair – how to improve credit scores and move personal finances in the right direction. The group posts information and schedules on its Facebook page at Facebook.com/Queen-BossNetworking.
To view more of photographer Terah Wilson's work, visit terahwilson.com.