Eclipse Trips
Take a short drive to see this month's total solar eclipse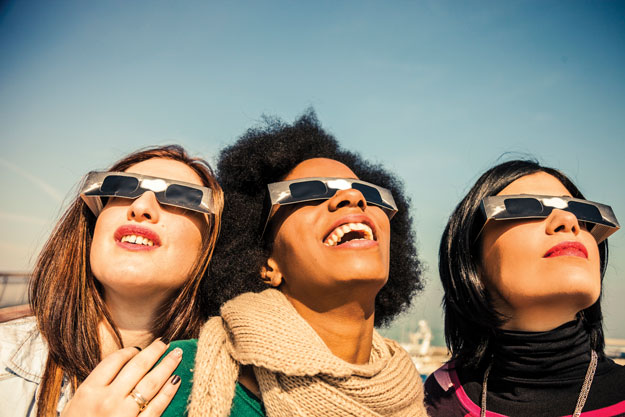 Waiting is something most of us do not do well. Imagine waiting thirty-eight years. The last time the moon scooted in front of our sun, long enough to make it disappear from view in the continental United States, there was great anticipation.
Faces turned skyward wearing special glasses or looked downward at pinhole projectors, watching the sun's corona disappear for a minute or two, creating odd shadows as it danced into place.
Wilmington resident PAMELA MORRISON was in elementary school in 1979. She and her classmates were excited as they created their pinhole projectors to view the sun. They learned that looking directly at the sun during an eclipse will damage your eyes and that when the two bodies align completely, it's called totality. They were ready.
"But the teacher made them stay inside as punishment for a classmate's misbehavior," recalls PAT LOWERY, Morrison's mother. "She even pulled the shades so no one would be tempted to look outside. Pamela determined then that she would see the next eclipse, no matter where it is."
For more than a year now, Lowery and Morrison have planned a pilgrimage from Wilmington to Charleston, South Carolina on August 21. On that day, according to the National Aeronautics and Space Administration (NASA), the path of totality forms a line between Lincoln Beach, Oregon, and Charleston, South Carolina, for the Northern Hemisphere. Areas outside that line will experience a partial eclipse, including Wilmington.
But, for those who want the total package, Charleston is a convenient choice. Enthusiasts will gather hours ahead of the event at venues such as the USS Yorktown, at resorts, piers, and in backyards.
The event will begin with a partial eclipse, which can last over an hour. As it progresses, beads of light, called Baily's beads, shine through around the moon's rough edges. As the moon covers the sun, one last glint called the diamond ring effect signals the approach of total darkness. Totality will last no more than two minutes, forty seconds anywhere in the U.S.
In Charleston, the countdown begins at 1:16 p.m. Totality happens at 2:47 p.m., and it's all over by 4:09. The total eclipse lasts just 1 minute, 38 seconds.
Wilmington resident MEGAN KOPKA is also making the trip. "How excited I am to witness the solar eclipse," she says. "It's worth spending a few hours preparing for this moment of awe and wonder I expect to see and feel in the line of totality – combined with any excuse to go to Charleston."
For those who can't make it this year, you'll have plenty of time to plan ahead. The next total solar eclipse visible in Charleston is on March 30, 2052. If you're holding out for Wilmington, the next total eclipse will be June 3, 2114.
If you're in Wilmington, there are events to check out to make the most of the partial eclipse visible locally on August 21.
AIRLIE GARDENS
12:30-3:30 p.m.
Games, education activities, viewing activities, and more; event is included as part of general admission tickets Click here for info
ECLIPSE ARTISAN BOUTIQUE
1-6 p.m.
An artist meet and greet, exclusive work from local artists commemorating the event, raffle to benefit DREAMS of Wilmington, and light refreshments Click here for info