Eating Green: Beyond the Menu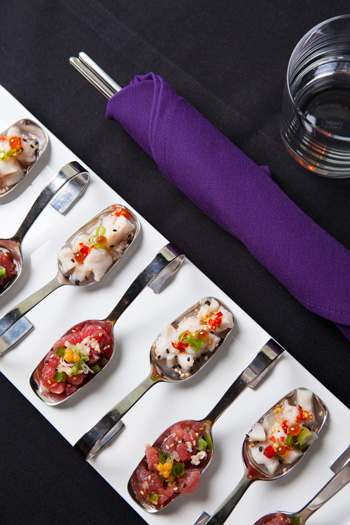 MARK SCHARAGA thinks about fish pretty constantly. Naturally enough, as executive chef and co-owner of Wilmington's TAMASHII SUSHI AND SPOONS restaurant, he thinks about how he will prepare and present various fruits of the sea.
Tamashii, however, calls itself the first truly sustainable sushi restaurant in the Southeast, so Scharaga's interest in fish goes beyond what's available and what's fresh to whether the available fish aligns with the restaurant's fish philosophy.
"We focus on fish caught through practices that don't harm the environment or that are not targeted at particular species," he said.
The restaurant, which opened in the summer on Masonboro Loop Road, is one of a growing number of area eateries that tout their eco-friendly menus and operations.
Thus, Tamashii, which means "soul" in Japanese, eschews fish caught using longlines or nets ("too much bycatch," Scharaga said), as well as unagi, a freshwater eel served in almost all sushi restaurants in the country. Scharaga's objection to unagi stems from the fact that so much of it is farm raised in China, taking eggs from the wild and depleting the wild stock.
The menu at Tamashii instead features smaller species of fish that have been locally caught with hook and line. It also offers black sea bass that come from approved fish farms in the area.
Tamashii's green initiatives also extend to the restaurant's operations.
"We recycle everything we can, including grease," Scharaga said. "We serve filtered water in glass pitchers rather than using plastic pitchers or bottles of water. We use stainless steel chopsticks for dine-in customers. Some of our wines are organic, and our house vodka is 360 Vodka, a company that works hard to reduce its carbon footprint. We look for products that align with our mission and are consumer-friendly."
TRIPP ENGEL, executive chef at BRASSERIE DU SOLEIL in Lumina Station, has similar eco-friendly goals for his operation.
"We use a lot of biodegradable, compostable containers for takeout items," he said.
"We recycle all glass, plastic, metal and paper. We recycle oyster shells. All of our leftover oil and rendered animal fats go to a company that turns them into biofuel."
Engel, who has been at Brasserie du Soleil since it opened in 2005, said a 2007 state law mandating restaurant recycling of oyster shells really got him going green.
"That law helped me institute what I wanted to do," he said. "I got others on board, and we went further on our biodegradable takeout containers. Then the biofuels company in Raleigh approached me about recycling our oil. We don't have any place for a compost pile, but we do everything else we can."
JOHN FEICKERT, kitchen manager at Lumina Station's STONE CRAB OYSTER BAR, said participating in the state's mandated oyster shell recycling program is pretty easy.
"They drop off the bins, we throw the shells in there and they come pick them up," he explained. "Our volume depends on the season. Summer's busy – we probably go through two, 50-gallon bins a week. Later in the fall, when the local oyster season starts, things pick up again. We probably fill up 50 bins in the course of a year, and we also recycle glass and cardboard."
While BRAD CORPENING and CHRIS GRAHAM were planning CHOPS DELI, their downtown food venture, they learned about Eco-Products. The company manufactures biodegradable eating utensils as well as cups, bowls and to-go containers.
Deciding to use the earth-friendly products was "a no-brainer," Corpening said. "It was a good idea for us to use them and raise awareness."
As an example, he said, Eco-Products spoons, forks and knives are made from a cornstarch compound. "They break down within 60 to 90 days, rather than sitting in the landfill for years and years."
Corpening listed a few other steps Chops has done to curb its carbon output. "We've moved to fountain drinks, which means no more soda cans," he said. "We also promote recycling by putting a bin by the door. We turn off the electricity and electrical appliances when they are not needed. And we make our own vegetable stock, minimizing throwaways."
KEITH RHODES, chef and owner of CATCH, has also assessed his restaurant's operation from an earth-friendly perspective. His menu features local, organic and sustainably produced food, including wild-caught or locally farmed fish. Like his eco-aware colleagues, he uses biodegradable packaging for to-go orders and recycles everything possible, including oils.
Rhodes also purchases only biodegradable detergents and cleaning products so that runoff from Catch has a minimal impact on water quality.
Catch's clientele might not know it, but one of the restaurant's green features is also under their feet. Three years ago, Rhodes installed a dining room floor made entirely of recycled plastic, with a wood-grain overlay.
"We wanted something that would be easy to clean but would be progressive," he explained. "In three years, it's done just fine."
Soon, Catch will take another step on its green journey, converting its food truck to biodiesel.
"It's good to know that the dollar you bring to a restaurant doesn't just go for food, but supports an environmentally responsible operation," Rhodes said.
To view more of photographer Andrew Sherman's work, click here. ashermanphotography.com