Ear for Music
Karen Kane has built a career in the music industry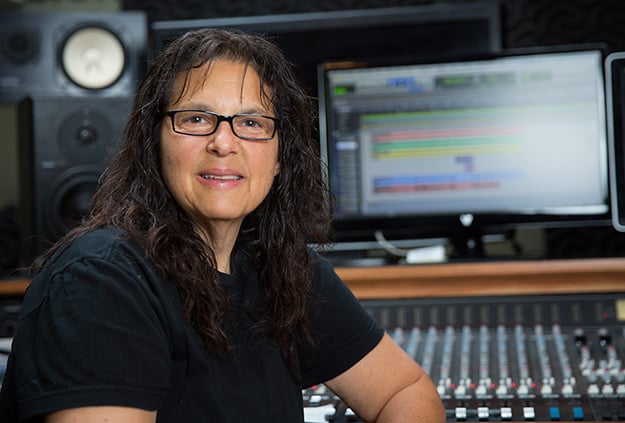 After graduating from high school in 1969 and celebrating peace and music at Woodstock that summer, New York native KAREN KANE landed her first job at 6 West Recording in Manhattan as a studio assistant.
Now a Wilmington resident with decades in the music business, Kane recalls it wasn't a smooth start in the industry.
"Back then, there was this unspoken rule, women didn't touch the equipment," Kane says. "Guys were the recording engineers, and the women did the business end of a recording studio."
Undeterred, Kane began teaching herself the equipment by bringing musician friends into the studio. About a year later, the voiceover engineer called in sick, and Kane offered to help record the commercial.
"So I did the session. All I had to do was take a microphone and get it through the mixer to a reel-to-reel tape machine. Everything went fine, and I was hooked," she says.
The studio manager left 6 West Recording about a year later, and Kane was given her job. She was only twenty years old. "I did that for about three years," she says. "And while I loved the job, I wanted to touch the equipment."
She decided she needed to learn more about music to branch into music production. In 1974, Kane quit her job, moved to Boston, and signed up for the music program at Berklee College of Music.
"The atmosphere at that time was extremely sexist. And also Berklee at the time was extremely jazz-oriented at the time, and it wasn't my thing," she says
Kane left school after one semester and got an assistant studio manager job at Intermedia Studios, where Aerosmith's debut album and their iconic song "Dream On" was recorded. Again, she brought musician friends into the studio, "I went in practically every night and learned and learned and learned the technical side of music production," she says.
Coinciding with Kane's new job, the Recording Institute of America, the first recording studio school in the country based in New York, wanted to test market classes at Intermedia Studios in Boston. There, she earned two diplomas. After three years at Intermedia Studios, Kane asked her boss to fire her as the assistant studio manager, find someone else, and allow her to become an apprentice engineer.
"In other words, 'take me seriously,'" Kane says. "To my surprise, he said, 'Okay.' I took a pay cut. I swept the floors and cleaned the toilet, but I was in on every recording session, helping and watching the main engineers."
She worked her way up to a full-time senior engineer, got her own clients, and did her own sessions. "I started getting a lot of clientele who were 'political lefties' who did folk music. And they were very into doing the politically correct thing by hiring a woman in a traditional male job," she says.
In 1978, Intermedia Studios was sold, and the staff laid off.
"We were heartbroken," Kane says. Despite multiple studio manager job offers, Kane placed an ad in Musician's magazine in the Boston area. "The day I got laid off from Intermedia, I became freelance, and I have been freelance since then."
Kane worked in numerous studios and on hundreds of albums in the Boston area until she moved to Toronto in 1990. She freelanced in Toronto for twelve years and taught music production and engineering at the Harris Institute. Karen engineered three albums nominated for Juno Awards (Canadian Grammy) in 1997, 2002, and 2003. Two of the nominations were in the "Best Blues Album of the Year" category.
Warmer weather persuaded Kane and her partner to move to Wilmington in 2002. Right away, she found a local studio, Audio Genesis. There, she brought in her own clients and developed a long-term business relationship with owner Tommy Brothers.
Kane also taught private classes at the studio for eight years. In 2012, she began teaching recording technology classes part-time at University of North Carolina Wilmington. After saturating the market, Kane's private classes waned, and in 2013, Audio Genesis closed.
She worked out of her home studio but sold the house and needed a space to work. She found that at Low Tide Studio on Airlie Road where she shares the studio with Jim Fox. In 2013, she won "Producer of the Year" at the Carolina Music Awards in Raleigh.
More than thirty years in the music business has afforded Kane the opportunity to work with hundreds of artists ranging from Tracy Chapman, Barenaked Ladies, Medicated Sunfish, Folkstar and Wilmington's own L Shape Lot. She continues to produce and engineer music projects both locally and internationally.
To view more of photographer Chris Brehmer's work, go to www.chrisbrehmerphotography.com.