Dropping Anchor
Waking up on the water has its perks and hassles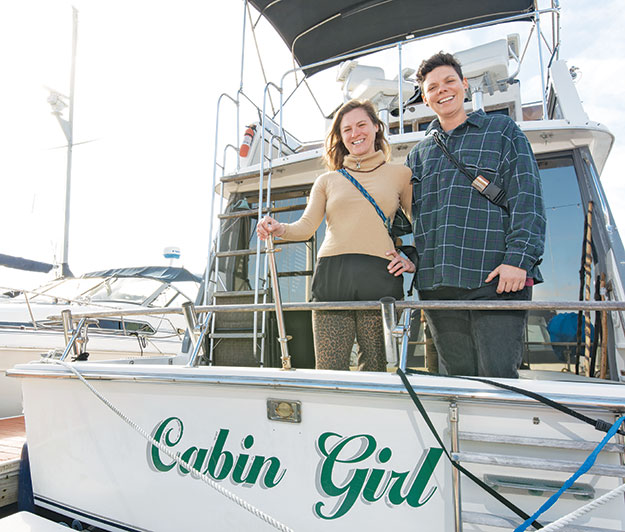 When LARA MAPLES  and ERIN WHITTAKER  tell people they live on a boat, they often hear, "Wow, I wish I could do that!" Their response is: You can.
Maples and Whittaker, partners in life and business, moved off land four years ago, after moving to Wilmington from Washington, D.C., for a change of pace.
The two were renting in Carolina Beach when their work in the marine industry –Maples had a job detailing boats – combined with their uncertainty about where they wanted to plant roots inspired them to take up residence on the water.
In the summer of 2014, Maples and Whittaker sold their nonessential belongings and bought a cabin cruiser-style boat – a Trojan 33 Sedan – to live on full time.
They docked their boat named Cabin Girl in a small marina in Carolina Beach with a neighborhood feel.
On the other side of their sliding glass doors are sea creatures galore, and on a nice day, they can easily cruise to destinations such as Southport, Bald Head Island, and Beaufort. But, the pair stays anchored most of the time on account of their locally based business, CABIN GIRL DESIGNS, which sells handmade, custom-designed bags from remnant and scrap boat material.
Soon after the couple made Cabin Girl their home, Whittaker joined Maples in the boating-world workforce, finding her niche sewing for a company that does sail repair. Whittaker noticed how much unused fabric was being thrown out at the end of the day and got the idea to use her sewing machine to create bags out of the extra material.
Maples began dabbling in the sewing project, too, and before long, a business was born.
With Cabin Girl Designs, named after their boat, Whittaker and Maples create lifestyle bags made from marine-grade, leftover fabric, zippers, and thread. Part of what makes the bags unique is their durable canvas material.
"Once we started living on a boat, we found out that it's more about quality than quantity," Maples says.
She and Whittaker started their endeavor in a trailer in a friend's backyard. Today, a year after making their first bag, they have an Etsy store, work exclusively for themselves, and operate out of a rented space in Carolina Beach where they use industrial machines. They sold at markets nearly every day this past summer.
But, the past few years haven't always been smooth sailing.
During Hurricane Matthew in 2016, Cabin Girl had to be hauled up and put on stilts while Maples and Whittaker weathered the storm in their workshop.
Still, the duo says they aren't fazed by inclement weather. In fact, Maple says that on the boat, "when it rains, it's beautiful."
During hurricanes of lesser strength, they ride out the storms on their boat. Navigating bad weather on a houseboat requires the right kind of preparation, they explain, and owning a boat in general demands a lot of maintenance work.
"The saltwater eats everything," Maples says.
The bottom of the boat must be routinely painted, and the air units have to be cleaned. Maples has, on occasion, found jellyfish in the heating system and eel in the AC strainer.
But, despite the hard work and costs that owning and living on a boat entails, they have no regrets.
Going forward, they hope to sell more of their products at music festivals, branch out to local stores, and – in the next five years – open a brick-and-mortar shop. While they might eventually move back on land, they'll always have a boat, and "the next one will definitely take us to the Bahamas," Maples says with a laugh.
To view more of photographer Michael Cline's work, go to www.michaelclinephoto.com.