Down to Business
At BCC, Velva Jenkins aims to help small businesses and workers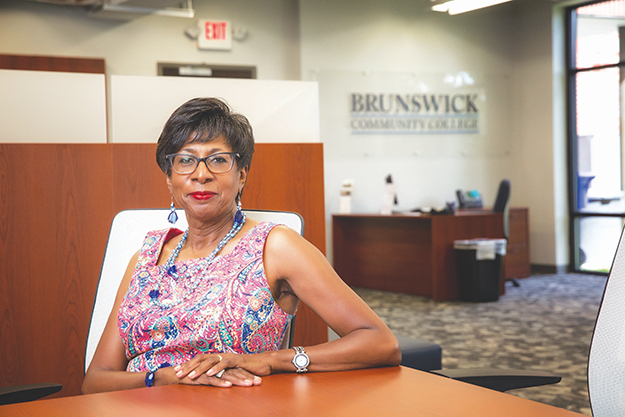 Brunswick County has a strong business advocate in VELVA JENKINS.
As vice president of continuing education, economic and workforce development at Brunswick Community College, Jenkins is charged with creating programs to help both startup and existing small businesses. That includes oversight of the college's Small Business Center and business incubator and of programs that provide continuing education credits, job training, and workforce development.
Unlike many people, Jenkins says she enjoys writing grants. She's successful at it: Her efforts have netted more than $1.1 million for the college in the past ten years.
Jenkins has been nurturing small businesses since 1986, when, armed with bachelor's and master's degrees in business administration, she was hired by Brunswick Technical College – the forerunner of BCC – to head its Small Business Center.
"Small business continues to be the backbone to our local economy. It has been my goal and passion to foster ways to support and create entrepreneurship," she says. "In 2013, I pursued an EDA grant as matching funds for a Golden Leaf Grant to construct a small business incubator to support home-based manufacturing businesses that are ready to move to the next level of growth."
With that $200,000 grant and the $200,000 Golden Leaf match, plus funds of its own, the college built a three-bay small business incubator with additional space for offices and meeting space. That incubator is now full, but there was something missing in the complex, she says.
"In 2016, I recognized that we were not meeting all the needs for business startups. That was the inception of the coworking space [idea] to support other entrepreneurial (ventures) that are not manufacturing or assembly operations. The coworking space, now CINErG (Center for Innovation, Networking & Entrepreneurial Groups that opened in April) provides an office and meeting space for non-competitive entrepreneurs and small businesses to conduct business, collaborate, and network."
Lack of qualified workers is a "tremendous challenge" for businesses, Jenkins says.
"Not only do employers want skilled workers, they also want workers that have communication, critical thinking, reading, writing and observations skills, and work ethics," she says. "I have heard many employers say, 'If you can get me the workers who can communicate, read, and have basic math skills, I can train them!'
"The community college is taking a leading role in package career pathways with technical and soft skills training. We want to prepare our graduates to be workforce ready. Workforce ready means that students will leave with technical skills, soft skills, and portable credentials when they complete the program."
Beyond programs the community college can offer, there are other factors Jenkins and her colleagues must address to make potential workers employable.
"The community college must collaborate with the community in finding ways to address barriers to work," she says. "In 2018, we still face (needs in) transportation and child care, lack of family-friendly workplaces, and restrictive policies for previously incarcerated people as barriers in closing the skills gap. I see this issue as a community issue, which goes beyond the scope of the community college."
In 2017, Jenkins' office served 4,712 students, whose average age was forty-one. The office awarded more than $21,000 in scholarships.
Jenkins is especially concerned with developing workers for the construction trades, which she says are struggling statewide because of labor shortages. Working in construction is not necessarily a career path that is attractive to the younger generation, she says, and her office is looking for ways to change that perception.
"We are collaborating with the public school system, Brunswick (County Home) Builders Association, and the Shallotte Rotarians," Jenkins says. "We have scholarships and mentorships/internships Once a student successfully completes the construction pathway, we will guarantee a job interview, and a tool belt is awarded to demonstrate that (the student is) job ready."
For more from Velva Jenkins, check out the Take 5 feature in the August issue of WILMA.
To view more of photographer Chris Brehmer's work, visit www.chrisbrehmerphotography.com
Want more WILMA? Sign up for our WILMA Weekly email and announcements at WILMAOnTheWeb.com.
Take 5 with Velva Jenkins
AS BRUNSWICK COUNTY GROWS, WHAT IS THE GREATEST DEMAND YOU HEAR FROM THE BUSINESS COMMUNITY?
"The industries that are most in need are the metalworking industry and the construction industry, specifically homebuilding. It is also a challenge to find workers with soft skills."
ARE THERE ANY TRENDS OR ISSUES IN CONTINUING ED/WORKFORCE DEVELOPMENT IN BRUNSWICK COUNTY THAT CONCERN YOU?
"The construction trades across the state are struggling to find skilled workers, but we're finding it a challenge to make this career pathway attractive to the younger generation."
WHAT PROJECT OR PROGRAM YOU'VE DONE GIVES YOU THE GREATEST SATISFACTION? "
In 2013, I pursued an EDA grant as matching funds for a Golden Leaf Grant to construct a small business incubator to support home-based manufacturing businesses that are ready to move to the next level of growth. … With additional funding from the college, a three-bay small business incubator with 2,000 square feet for office and meeting space was constructed."
YOU HAVE RECENTLY BEEN APPOINTED TO TWO STATE BODIES. TELL US ABOUT THEM.
"I am one of twenty-five members appointed by Governor (Roy) Cooper to the North Carolina Early Childhood Advisory Council, which he established in February 2018 … to promote a shared early childhood action plan driven by measurable goals and impacts for young children and families. (Also) as a member of the Family Forward NC … we want more businesses to adopt family-friendly policies to improve the health and well-being of young children and ensure the state's business climate is competitive."
WHAT DO YOU ENJOY DOING WHEN YOU ARE NOT WORKING?
"I spend time serving as a board member on YWCA and the Cape Fear Red Cross. The rest of my spare time is spent with my husband, Ron. We also have two daughters, Monique and Rowanty, who live three and seven hours away."