Down the Line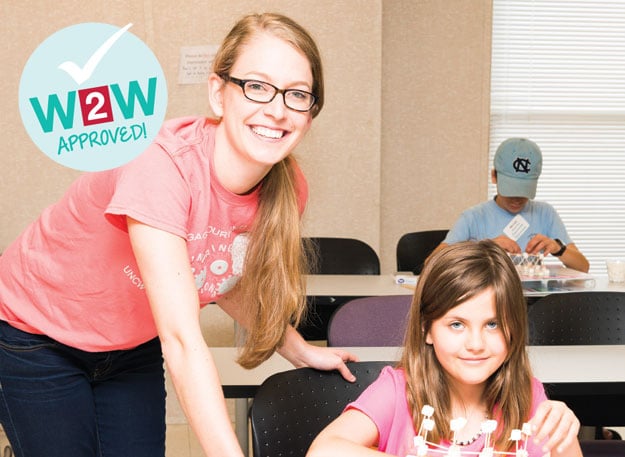 When Kathy Ibbotson was in high school, an influential teacher piqued her interest in chemistry by demonstrating that a challenging subject could be fun and engaging.
She credits the teacher with inspiring her decision to pursue a career in chemical engineering. Now it is Ibbotson's turn to instill a passion for science and engineering in the next generation through her current role as UNCW's K-12 engineering program coordinator.
In her new position, Ibbotson designs and coordinates Engineering Expectations, a Saturday program throughout the school year for children ages six to thirteen. She also designs curriculum, manages logistics, and helps facilitate the engineering and robotics summer camps, including a leadership academy for female students.
University of North Carolina Wilmington recently created Ibbotson's position with the goal of expanding the university's reach within the community, engaging local youth in STEM programs, and improving their engineering presence on campus. The programs involve hands-on, project-based activities designed to spark children's interest in engineering.
Ibbotson emphasizes that all of UNCW's youth engineering programs approach learning and student engagement from a creative, outside-the-box philosophy. For example, they call their programs "design challenges" or "engineering challenges."
"We hesitate to call them science experiments or anything like that to try to make it sound fun and interactive," she explains. "We give the kids some supplies and a challenge and tell them to be creative, do whatever they want to reach the goal. It expands their horizons. It is helpful because when you get out to the real world, those are some of the skills that you need to have."
Ibbotson came to the university program from the private sector.
After graduating from the University of Dayton with a degree in chemical engineering, Ibbotson began her career as an industrial process engineer at International Paper. She worked for the company for three and a half years, eventually promoted to a shift supervisor role in which she oversaw a staff of twenty unionized plant workers. She estimates that 90 percent of her colleagues were male, noting that there were not a lot of female role models.
"When I was in college, I didn't have any of that negative feedback that some women get about going into a man's world," she says. "But in the working world, there were some challenges about working in a man's world. So I thought I could take some of the things I've learned and bring that to the programs (at UNCW)."
She enjoyed her job at International Paper but felt that something was missing.
"I was looking for something that would impact the community in a positive way," she says.
While in college, Ibbotson participated in the University of Dayton's Engineers in Technical Humanitarian Opportunities of Service Learning (ETHOS) program, which trains engineering students to solve real-world engineering problems in developing countries.
Ibbotson worked with a team to purify the polluted water supply of remote villages outside of Shanghai, China. The student team designed a water filtration system and brought it to the villages in addition to educating the community about the need for clean water. She spent the summer after college working in that community.
"The program connects you with a bigger global view of how engineering can provide solutions and help people," Ibbotson says.
She utilizes some of the skills that she learned through that experience to teach students in UNCW's Engineering Expectations program.
"Sometimes a low-tech solution is really the best thing. It doesn't have to cost a lot of money," she says.
Also during her college years, Ibbotson was involved with Phi Sigma Rho, a social sorority for women engineering and engineering technology students. Ibbotson describes this as a seminal growth experience, as the sorority provided a
community of support from women on a similar career path. The sorority also did outreach philanthropy, mentoring a Girl Scout troop of middle schoolers to achieve their badges.
One of Engineering Expectations' goals is to make engineering more accessible for boys and girls. Engineers are not prevalent in pop culture like doctors, lawyers, police officers, and other professions, she says.
"If you think of an engineer, you probably either think of a train conductor or some guy with nerd glasses and a pocket protector sitting in a cubicle," Ibbotson says, laughing. "So we are trying to give kids an idea of what an engineer is and what they actually do."
Ibbotson cites the growing shortage of engineering graduates in the United States with the need to educate the younger generation about the field.
In the short time since she began the position in February, Ibbotson has already made strides to increase program offerings, according to her supervisor, Sue Kezios, UNCW's youth programs director.
"Although she has only been with us a few months, Kathy has already begun to transform our youth engineering programs by encouraging the engineering habits of mind," Kezios says. "She challenges them to use systems thinking and the engineering design process to come up with creative
solutions to problems. And she asks them to consider the ethical implications of their design solutions including costs, safety, and environmental impacts. As a result of her efforts, the kids attending our programs seem much more optimistic about the potential for their engineering designs to actually solve the given problem. With her depth of knowledge, skills, and experience I am excited to see how Kathy further develops our youth engineering programs."
In the future, Ibbotson would like to offer more programs during the school year and summer. She says she would also like to visit schools and conduct presentations to incite interest in the engineering programs.
Ibbotson encourages kids to understand that by being an engineer, they can really make a difference in some real-world problems, such as making solar energy affordable or providing access to clean water.
"If you can come up with a way to apply creativity to a problem that would really help people as an engineer, that seems to be attractive to them," she explains. "We ask kids what they want to be when they grow up, where they want to go to college, if they want to be an engineer."
To view more of photographer Algernon Parker's work, go to www.algernonparker.com