Doughnut Redux
9 Gets Creative with Bakery Flavors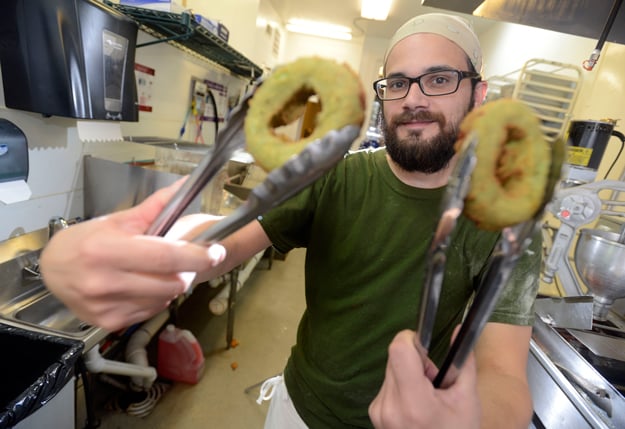 The newest bakery and restaurant combination in town strives for good food with a laid-back touch. Couches and ottomans in the corners with local artists' work covering the walls – it's becoming a go-to place downtown for business meetings and college study groups. They call themselves 9 BAKERY & LOUNGE, so you won't forget where to find them: 9 South Front Street.
GAETEN LOWRIE, 9's head baker, has been baking for years.
"I grew up baking in the kitchen with my family. We didn't grow up on fast food – all of our meals were homemade," Lowrie says.
Lowrie has a creative side to him, both in and out of the kitchen. He knew of places up North that used potatoes in the ingredient list for their doughnuts and was interested in trying his hand at it. He takes Russet potatoes – with the skin on – and adds them to the normal list of ingredients for donuts to create a dense, moist treat.
"A doughnut is still a doughnut at the end of the day, but our doughnuts do have a little added nutritional value over yeast-made doughnut because of the potatoes," Lowrie says.
These doughnuts are smaller than ones found at Krispy Kreme, but customers have been pleasantly surprised at how filling and moist they are.
Lowrie decided to test the doughnuts for customers who purchase a dozen or so to take home. He wanted to know how they would stand the test of time, adding that they proved to stay moist even after twenty-four hours.
"Some people are hesitant to try the doughnuts when they find out they're made with potatoes," Lowrie says.
The doughnut choices venture far from the traditional.
The restaurant's newest one, created by assistant baker ZAK DUFF, is a sweet potato base with marshmallow glaze and pecans on top. The bakers also cater to those interested in classic tastes such as glazed and chocolate.
Lowrie hopes to update the menu seasonally, keeping the most popular items year round and matching holidays and seasons. Coming up, he's looking into a candied maple bacon doughnut and hopes to add savory items to the doughnut list alongside the sweet choices.
Besides doughnuts, 9 offers a muffin of the day, which changes every two-to-three days. Customers might walk in on Monday to find a mango coconut with raspberry glaze, but by Thursday see a peach rosemary muffin on the menu.
"The best part about 9 is we have talented people working for us, but most importantly they're creative. We allow them to play with that creativity in the kitchen. The employees come to me with an idea, and I love being able to say, 'That sounds great – go for it,' " Lowrie says.
After the bakery closes in the morning, the kitchen downstairs comes alive with chefs getting ready for the dinner crowd.
The restaurant also tries to mirror the bakery, food, and drinks to each other, so 9 offers a dessert martini menu.
Customers can choose from the Tiramisu Martini, Death by Chocolate Martini, or Oatmeal Cookie Martini, to name a few.
Every Saturday morning, 9 employees hit the farmers market downtown to buy as much produce as possible and look to local places for the bulk of their food.
They offer edible flowers on their dinner plates from Shelton Herb Farm, order seafood from Motts Channel, and grab a few ingredients from Saigon Market as well.
Other bakers in the area have mixed up their recipes, looking for the unique or the nontraditional niches.
UPRISING at 1701 Wrightsville Avenue is committed to offering dietary-specific bakery items to the Wilmington area.
Live, local bands play on the weekends at the outdoor area of Uprising, which also offers gluten-free options for wine and beer.
Besides gluten-free treats, Uprising also bakes up dairy-free and vegan goods, says co-owner Bree Peterson-Resnick.
"We didn't intend to have all of these options in the beginning," she says, "but there is an incredible demand for them."
To view more of photographer Jeff Janowski's work, go to www.jeffjanowski.com.