Double Duty
Pineapple Studios offers multiple creative outlets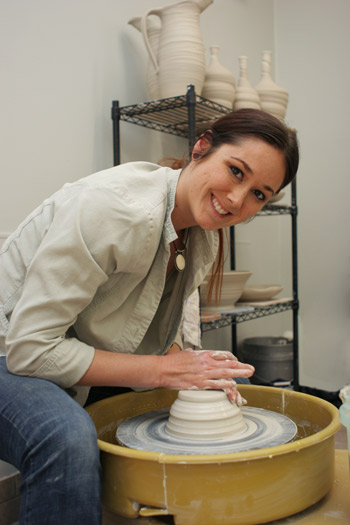 Ceramics and yoga aren't often practiced in the same place together.
PINEAPPLE STUDIOS, which opened in January, is an exception. It offers several ways to be creative: throw a pot, take a break with "rock n flow" yoga, or doing both.
Owner JESS REEDY combined her double majors of yoga and ceramics to form the studio at 21 North Front Street.
"Usually if people have an interest in one (yoga or pottery), they will have an interest in the other," Reedy says. "It allows people to be creative in more than one outlet."
Pineapple Studios resident artist Lauren Rogers helps lead classes and plan events, while also displaying her personal artwork in the studio.
Reedy met Rogers in a ceramics class at East Carolina University, never dreaming they'd someday work alongside one another.
Rogers moved from Virginia to Greenville when she started at ECU in 2006. She worked at an arts council as a pottery coordinator and ceramics instructor.
Having an interest in Wilmington and living on the coast made the move easy. She started her residency January 11, when Pineapple Studios opened.
Rogers says she is using her time as resident artist to work on building her own portfolio, focusing on large, twelve-inch platters using slipwork (very wet clay) and flip design to show growth and progression through spirals.
"I've also really enjoyed the times when the curious passerby drops in, inquiring about ceramics," she says. "I get pretty excited when someone shows an interest."
Rogers puts in at least twenty hours of work a week. She helps keep the studio clean and plans community events. She can reapply to be resident artist again in six months – something she plans on doing.
Reedy doesn't feel that their relationship has changed all that much.
"The difference now is that I am juggling both the business side along with the creative side," she says. "On days that I am able to get on the wheel we crank up the music, brainstorm ideas, and say things like, 'What do you think of the shape of this vase?' It feels like nothing has changed."
Both women believe that through pottery, people tend to gain a sense of community.
"The arts fuel our curiosity and our creativity and provide opportunities for self-expression. Ceramics is just one of the many art forms that also bring people together," Rogers says. "If you get involved in a class or workshop – whether yoga or ceramics, you never know, you might just make your life that much sweeter."
To view more fo photographer Kristen Coorley's work, go to www.kristencorley.com