Doctor Sheds New Light on Health
Dr. Nieves observes some health issues unique to our area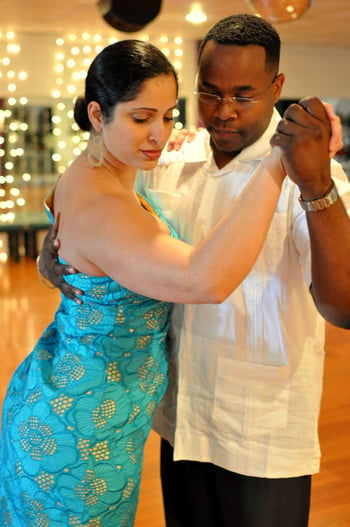 Dr. Lucybeth Nieves Arriba loves to dance. One of the first things she did when she moved here last summer was to check out the local dance studios and anywhere that plays salsa music reminiscent of her native Puerto Rico.
"When I was in college, I started doing more salsa and Afro-Caribbean rhythms because it was more linked to my culture. For me, it was a good way to learn more about where I come from. At the same time, I discovered that it was a great stress reliever," she said.
And, as Wilmington's first female gynecology oncologist, Dr. Nieves sees about 22 patients a day at the Zimmer Cancer Center, all of whom are women living with cancer of the reproductive organs. Dancing, wearing her favorite bright colors and armed with two Red Bull energy drinks for breakfast help Dr. Nieves stay upbeat and focused on caring for her cancer patients, a passion she found during her residency at the University of Connecticut and as a fellow at the Cleveland Clinic in Ohio.
She applied only to jobs in the South, because she was drawn to the region's warmth and hospitality that reminds her of her Latin culture, she said. Since settling here, she has observed some health issues unique to the area.
"In the last six months, I have treated at least six cases of cervical cancer. That's a lot for this area," Dr. Nieves said. "My expectation was to have about one per year."
Prevention and early detection are critical, she said. Pap smears detect changes in the cells of the cervix that can signal an early form of cancer. If detected early, this precancer can be excised, eliminating the need for radiation therapy in the future and ensuring a patient's fertility.
"We tend to see more cervical cancer in the South. Because you still have a population that's not getting the pap smears," she said. Without regular check-ups the cancer could grow undetected.
In addition to getting tested annually, young women ages 11 to 26 years old can get a vaccine to prevent contracting two types of the human papillomavirus (HPV) that cause cervical cancer.
"Kids have a greater advantage over us. They have a vaccine. But if they don't know about it and they don't use it and they don't get the pap smears, you're going to have a very young population of women who might have cancer that's totally preventable," she said.
Religious and social stigma surrounding the sexually transmitted HPV may be preventing young women from getting the vaccine that could protect them, she said.
"Overall in the South, we need to work on prevention and providing women and young women HPV vaccinations in order to prevent this," she said.
About 80 percent of Dr. Nieves' patients have been diagnosed with endometrial cancer, a cancer in the lining of the uterus. Obesity increases the risk of it developing.
"In general, the American population is gaining weight and that's creeping up the rates of cancer," she said. Maintaining an active lifestyle and finding activities you love is also key.
"I'm probably not a good dancer, but I have so much fun doing it, it doesn't matter," Dr. Nieves said. "I think life is very stressful so you always need to go back and think what makes you smile and happy when you were younger and keep it up."