Do-Good Gifts
Gifts that give back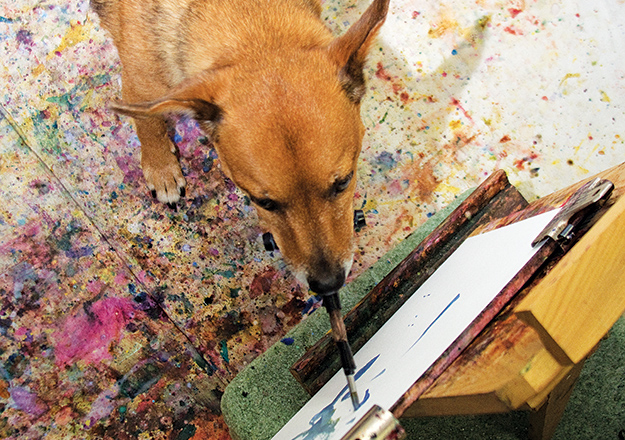 Still looking for gifts to round out your holiday shopping list? Check out these ideas that not only make unique presents but also pull double duty in the feel-good department.
For the Animal Lover
If you've lived in Wilmington for a while, you've probably heard of NETOP THE PAINTING POOCH. He's had a gallery showing at WHQR Erny Gallery. He makes frequent appearances for live painting events as fundraisers for groups such as Carolina Canines for Service.
But you can also buy Netop's original prints and notecards year-round from his website and know that the money will go to help other animals in the area.
"All of his money is used for charitable causes. It's not for him to buy squeaky toys," says Jacqueline Karch, an artist herself who got Netop as a puppy nearly fourteen years ago.
Original paintings ($65) or pack of ten notecards ($15), available at netopthedog.com
For the Coastal Chic
Friends Kim Ward and Sarah James started making and selling jewelry as side gigs from their day jobs about eight years ago. James, a glass and metal works artist, and Ward, who worked in the fine jewelry business before becoming a teacher, are both beach lovers.
James rows with the Wrightsville Beach Outrigger Canoe Club, and Ward gets on her standup paddleboard as much as possible. Their jewelry company – ARABELLA DESIGNS – reflects that coastal aesthetic.
The water also was an influence earlier this year when they picked a nonprofit to start sending a part of the sales proceeds to. They went with Surfrider Foundation, an environmental group with a Cape Fear chapter.
"We've both lived her about twenty years," Ward says, "and we're avid in using the coastal environment and protecting it."
Bead and tassel bracelet ($28), available at Tickled Pink in Lumina Station
For the Christmas Enthusiast
For the Christmas ornament collector, KIDS MAKING IT has a variety of designs to pick from.
The local woodworking for at-risk youth sells products that program participants make from their woodshop on Castle Street. If a hand-turned wooden pen or bottle stopper – also great gift ideas – is sold, the kid who made it gets all of the profits.
And for KMI's laser-cut items – Christmas ornaments and earrings – sales benefit the nonprofit's apprentice program. Kids Making It participants who have graduated out of the program after high school but are still having trouble finding a job can continue on as paid, part-time apprentices at KMI, say Jimmy Pierce, the group's executive director. He describes it as a stepping-stone program to help get them ready for the work world.
Laser-cut ornaments ($8.99 each, buy two and get a third free), available at KMI, 617 Castle Street
For the Snack Fiend
Sweet and spicy, maple glazed, or covered in
chocolate, The Old Log Cabin nuts that can be found at Carolina Country Store will make popular – and delicious – hostess gifts or stocking stuffers.
The nuts are distributed by residents of O'Berry Neuro-Medical Treatment Center in Goldsboro. Carolina Country Store, which is located in City Market in downtown Wilmington and at Blue Moon Gift Shops, carries several product lines made in the state by artisans with the disabilities and employs special-needs workers.
The Old Log Cabin nuts ($6 for a 5-ounce can and $10 for an 8-ounce can), available at Carolina Country Store or madein-nc.com
For Out of Towners
Anything from the gift shop at Bellamy Mansion Museum goes to support the antebellum home turned history and design arts museum. You can go with a set of colorful coasters by local photo artist MIKE BRYAND of Bellamy and other local scenes. The coasters are a great gift for holiday visitors, especially when paired with something cold and frosty to put on top.
Mike Bryand coasters ($7 each), available at Bellamy Mansion Museum, 503 Market Street
For the One Who has Everything
When in doubt, put their name on it. A number of area organizations have legacy gifts available to let you leave your – or a loved one's – name stamped in support. The best part is they'll still be there long after the holidays are done.
You can dedicate a chair in the CFCC WILSON CENTER performing arts center. The money benefits the school's humanities and fine arts program. Prices range depending on area of the theater, from $300 on the third-floor balcony to $1,500 to pick a specific seat (cfcc.edu/haveaseat)
With the recent extension of the CAROLINA BEACH BOARDWALK, you can now buy a fish-shaped tile with a personalized message to support the project. $250 for personalized tile on the boardwalk or $2,220 to claim a boardwalk bench (carolinabeach.org/boardwalk_project)
Or the NORTH CAROLINA AQUARIUM lets you Adopt-an-Animal to support care and display of aquarium animals. You'll get an adoption certificate, their name on the website, and more. $35-$70, depending on level of support (Adopt an Animal)
To view more of photographer Terah Wilson's work, go to terahwilson.com.