Diving In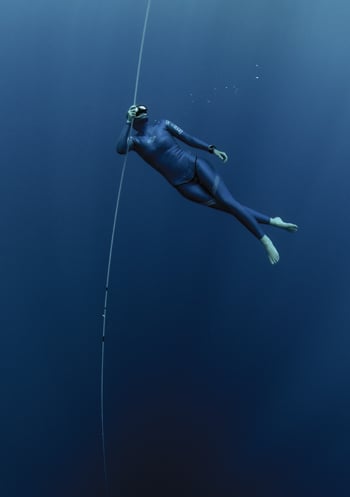 I was acutely aware of the change in my mother's breathing pattern. Her lips started to thin out in that way that they do when she's gritting her teeth behind her tightened mouth. One hand ascended from her side onto her hip, and the other became a concentrated source of power as she began stirring the tomato sauce she was making with the force of a high-speed mixer.
"I don't even know why you would want to hold your breath for that long, much less dive to the bottom of the freakin' ocean! Why can't you just play a normal sport?"
These questions I would hear over and over again. Even today, they are my mother's habitual response to my decision to freedive.
In freediving, there are no breathing apparatuses to provide oxygen. Freedivers hold their breath until resurfacing.
From recreational dives to spear fishing to photography, there are a range of reasons why people dive underwater, relying only on their lung capacity. Then there's competitive apnea diving, in which records for swimming endurance or dive depths are chased a single breath at a time.
Competitive apnea is the part that would irrevocably change my life in more ways than one. It's the part that has become my obsession and has pushed me to deeper depths physically, emotionally, and spiritually than the whole ball of wax that is the rest of my human experience. Don't misunderstand. Many, many experiences and people have contributed to who I am along the way, but the singular experience of freediving has shaped me and given me the kind of confidence parents spend a lifetime trying to instill in their children – the kind of confidence they can only really gain by standing on the precipice and diving into the great blue unknown for themselves.
Freediving for me started locally, here in Wilmington.
Before I had ever heard of competitive freediving, my husband, Ren, and I jumped into North Carolina's offshore waters at one of the many artificial reefs that exist off the coast. The artificial reefs are largely in the form of sunken ships that marine life eventually inhabits, making the ship its own reef ecosystem.
We floated on the surface of the water geared with our masks, snorkels, wetsuits, fins, and a little weight to compensate for the buoyancy of our wetsuits, speechless (one, because we had snorkels in our mouths making it hard to talk, and two because of what we were seeing) as we watched a few of our buddies take big breaths and plunge towards the wreck.
We couldn't believe they were able to dive down to fifty feet-plus on just one breath of air. The first time I ever tried, with any success, to touch the top of one of these artificial reefs, I descended with my head up, looking straight at the reef (not good freediving form, by the way), and watched as the darkness of the huge ship slowly came into sharper focus.
My imagination ran wild thinking of the skeletal ghosts that still must be trapped in the ship. The ship actually smiled a big toothy, shark smile as I got closer and closer. It opened its mouth to suck me into its watery grave.
Screeech! That was the sound of my fins quickly changing direction, turning me around, and propelling me, double-time, back to the surface. Sadly, my first few experiences freediving were wrought with fear. It turns out, fear is one of the primary obstacles the competitive freediver faces.
Ren and I decided to take a course to learn how to freedive safely. We ended up on Grand Cayman island in 2008 learning the art of breathold diving from some of the world's best divers.
Performance Freediving International taught us to dive safer, since freediving can be deadly both competitively but more commonly recreationally, to stay underwater longer employing certain breathhold techniques, and to go deeper.
In the four-day class I went from barely scraping the top of the wreck at fifty feet to hurdling down to 122 feet.
These were results of a girl who didn't grow up on the water and wasn't a scuba diver – no experience necessary to tap into your unknown potential. We were so blown away by the fact that you could actually be taught to hold your breath that we spent every cent we had in 2009 learning to teach freediving.
We not only wanted to immerse ourselves in the sport of diving but to share the experience with others. Ren and I began teaching the art locally, through our school, EVOLVE FREEDIVING, when we met fellow competitor KERRY HOLLOWELLl.
Hollowell and her boyfriend, Steve Benson, both took our course. Benson, a natural, held his breath for just shy of seven minutes the first time ever attempting to hold his breath statically, without moving, in the swimming pool.
At this time, sometime around 2010, Hollowell was the first woman I met locally who was also interested in the sport. In North Carolina, the sport is dominated by men since most people utilize freediving for spearfishing.
"I compete because I have always been an athlete my entire life, and I treasure the ability to push yourself past what you think you can do," Hollowell says. "The only place I can do that with 100 percent safety is in competition. The feeling of being an athlete and the support, friendships, and camaraderie that develops is what keeps bringing me back."
Although I prefer the competitive aspect of the sport, Evolve Freediving student LIAH MCPHERSON got into it recreationally.
"I began researching freediving two years ago and was fascinated by it," she says. "I bought a monofin and a pair of long blade freediving fins, and when my family traveled to the Bahamas, I began training by myself to hold my breath longer and longer and practice using my fins."
At seventeen years old, McPherson has a lifetime of diving ahead of her. Well-traveled for her age, when asked about her diving experience abroad compared to the local diving she says, "I have been freediving in Wilmington, in Florida, and in multiple locations in the Bahamas. I find wreck dives and reef dives equally amazing. They both teem with marine life and have different, exciting aspects. The natural beauty of reefs is untouchably wonderful, yet the wrecks offer something more mysterious and thrilling."
McPherson has indicated that she is interested in getting into the competitive side of the sport. Her freediving began with reef and wreck exploration and evolved into a love of sharks.
"I have swam with lemon sharks, nurse sharks, and reef sharks in the Bahamas – such cool experiences," she says.
And now, she may be ready to try deeper waters.
Although freediving is not an extremely popular sport in the U.S. compared to Europe or South America where competitive freedivers are revered but it is gaining popularity domestically.
Biennially, nations from around the globe send three athletes to converge in one freedive location. The athletes compete in three freediving events: depth, distance, and breathold. This year it is likely that the U.S. will send both Hollowell and myself to represent our country in Sardinia, Italy – two of the three competitors from our nation with a hailing port of Wilmington.
Impressive for our little East Coast town.
Ashley Futral Chapman owns Evolve Freediving in Wilmington. She is a three-time world record holder and ten-time national record holder in competitive freediving. She also was co-captain of the USA team at the 2012 Freediving Team World Championships.
Photography in this article c/o LIah McPherson, Lia Barrett, and Igor Limbarti.