Diving In
Local businesses make custom design swimwear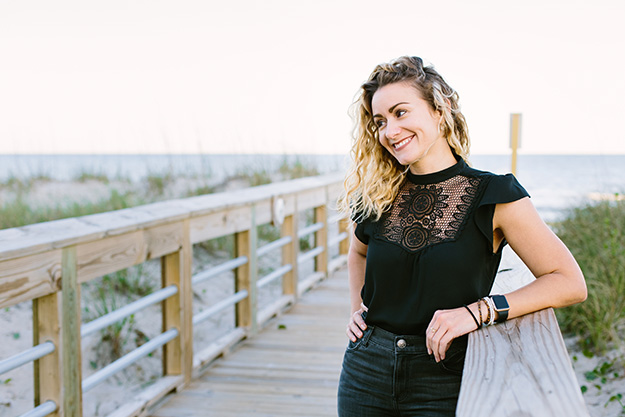 Ten years ago, AHNA HENDRIX walked into a shop in Costa Rica, where she was living at the time, and walked out with a new perspective on purchasing swimwear.
"I chose my own style and fabric, and they measured me," she says. "A few weeks, later I picked up the best bathing suit I'd ever owned."
The experience was eye opening, says Hendrix (above), so different from the typical process of searching from store to store for tops and bottoms that fit, stuffed in tiny dressing rooms – a frustrating shopping experience that leaves many women feeling badly about themselves and their figures.
Hendrix, who now lives in Wilmington, realized there was a "huge hole in the market" for custom-fit bathing suits. With her background as a social media marketing agency owner, she saw an opportunity.
In March, she launched her burgeoning business, ANAHATA SWIMWEAR, which boasts interchangeable suits (right) made of top-of-the-line fabric, designed to be comfortable, practical, and attractive.
While Hendrix is just getting started in the swimsuit industry, SARA BABIN (below, left), also locally based, has been building her swimwear line in recent years.
Like Hendrix, Babin also was drawn to the industry after frustrating attempts at finding ideal bathing suits.
As an island dweller, Babin loved wearing bikinis, but saw flaws in the designs. With her creativity and sewing skills, she decided to take matters into her own hands.
After moving to Wilmington in 2008, Babin starting dabbling in creating swimwear. The response from her friends was so positive that Babin took the plunge in 2012 and started an Etsy store for her own swimwear line that she named ­TIDE BIRD SWIMWEAR.
"It's mostly a summertime venture," Babin says. While she does get a few orders in the off-season from people going on vacation, summertime is when her business really ramps up.
Designing the swimwear is her favorite part of the job – the creativity and "trial and error" of it, she says. Marketing, on the other hand, has been Babin's biggest challenge.
As a self-described "yes person," she's had to recognize her limitations as a "one-man show" and accept that she can't always take on everything and "please everyone."
Both Hendrix and Babin get their swimwear fashion inspiration from listening to what women want right now.
Whether they're seeking a suit in which to do water sports or to wear while sunbathing, Tide Bird has something for everyone, Babin says.
The collection (right) consists of all handmade, reversible pieces that can be mixed and matched, and a wide variety of fabrics, prints, and colors to choose from. The suits are seamless, so there's "no tugging, pinching, or pulling. They're designed to be "sexy (but also) functional and comfortable," she says.
Hendrix says Anahata's target demographic is a professional woman who "doesn't want to be super cheeky," but still wants that "hotness factor."
Anahata also tailors to women's individual needs. For instance, Hendrix and her team are working on producing swimwear for women with large bust lines and swimsuits for mothers that enable them to nurse or cover a c-section scar.
It's Anahata's mission to empower women and to promote self-confidence, self-care, and self-love.
"The impact you can have on the world all begins with your relationship with yourself," says Ahna Hendrix of Anahata Swimwear.
Anahata is putting its message into action by donating 10 percent of every dollar earned to women in need. The Girls Leadership Academy of Wilmington (GLOW) was its first nonprofit partner.
Tide Bird regularly partners with local photographers, makeup artists, and jewelry designers.
"It's all very mutually beneficial," she says. "Wilmington is a great place to sell swimwear."
Babin offers consultations and gladly accommodates specific requests.
"Women love the customization," she says.
For now, Tide Bird can be found only online, though in the past it's been sold at a few local stores, and last winter Babin transported her entire shop to St. Croix, where she and her husband were living at the time.
As a busy stay-at-home mom of a toddler, Babin has no current plans to expand. Over the past five years of running all aspects of her solo biz, she has learned not to "bite off more than (she) can chew."
Anahata plans to have a showroom at the end of May in downtown Wilmington, by appointment only at first, and a storefront in the near future.
The company is in its early stages now, but Hendrix has plans to expand, aspiring to be the largest custom swimwear line in the U.S. She intends to do so steadily, asserting that a successful business is built on patience and flexibility and depends on maintaining quality.
"It's not just a bathing suit (women are) buying" when they shop at Anahata," Hendrix says. "It's an experience and an investment."
To view more of photographer Lindsey A. Miller's work, go to www.lindseyamiller.com.