Diaper Bank Nonprofit Expands
Launch event takes place February 20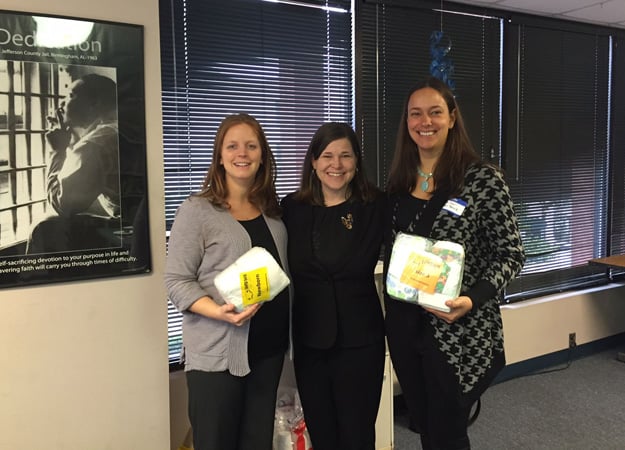 Organizers have started a group to provide free diapers for low-income families in the Wilmington area.
THE DIAPER BANK OF NORTH CAROLINA-LOWER CAPE FEAR launches February 20 with an event 3:30-4:30 p.m. at the Community Arts Center, 120 South Second Street,
Even before the official launch, some local businesses such as Green Baby Diaper Service and Port City Java signed up to serve as drop-off points for donated diapers.
Michelle Old, executive director of the Diaper Bank of North Carolina umbrella group, started the nonprofit in 2013, distributing 209,000 diapers in Durham the first year. She says it fills a need not covered by other assistance programs such as WIC and SNAP.
"There's no assistance for diapers," Old says. "We're finding family are leaving babies in diapers longer than they should be … or rinsing out and reusing diapers, which can lead to health concerns."
With costs up to $100 a month for a family – more in houses with multiple infants – diapers can put a stress on families in need, including working and military families who also contact the group, Old says.
The group will partner up with area family support agencies to distribute the donated diapers to children in need.
Old says because the diapers are handed out through other agencies, they can become gateways to other services for helping babies such as health clinics for wellness checks and home-visit programs designed to reduce child abuse rates.
For more information, go to www.ncdiaperbank.org
DROP-OFF LOCATIONS
Here are the initial donation drop-off spots for the Diaper Bank of North Carolina-Lower Cape Fear. As additional locations are added, they will be listed on the group's website.
Port City Java-Waterford, 511 Olde Waterford Way, Suite 100, Leland
Port City Java, Market Street, 2099 Market Street, Wilmington
Green Baby Diaper Service, 6006 Oleander Drive, Wilmington
Comments
comments