Delivery Updates
NHRMC obtains Baby-Friendly designation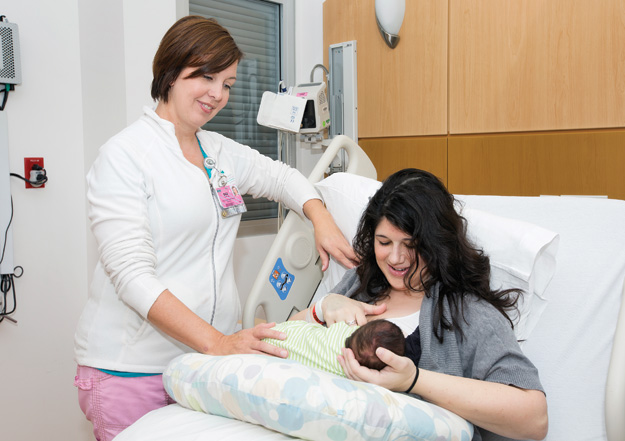 Movies might show newborns lined up in the hospital nursery with family members pointing from the other side of a window, but New Hanover Regional Medical Center has left that scene to Hollywood.
These days, the former nursery at NHRMC's Women's and Children's Hospital is an observation unit for babies who need monitoring. Most of the time it's empty.
Instead, the coos and cries of newborns come from inside individual hospital rooms where most babies stay with parents in the days after delivery.
This shift in policy toward rooming in was just one of several changes NHRMC has undertaken in recent years as officials sought a so-called Baby-Friendly designation.
In October, the Women's and Children's Hospital received word that it had passed the checks and achieved the recognition from Baby-Friendly USA Inc. Today, 215 hospitals in the country hold the designation, with 9.4 percent of births taking place in a Baby-Friendly facility, according to the group.
"Baby-Friendly USA is a worldwide organization that adopts the ten steps to successful breastfeeding put together by the WHO (World Health Organization) and UNICEF (United Nations Children's Fund," says Gigi Lawless, lactation program coordinator at NHRMC's Women's and Children's Hospital who helped lead the effort for the designation.
Lawless says the hospital started work on the recognition about two years ago. Typically, the process takes longer, but NHRMC participated in a national group of eighty-nine hospitals working toward Baby-Friendly designation, Lawless says.
She says consortium organizers received funding from the U.S. Centers for Disease Control and Prevention, which points to research on health benefits of breastfeeding such as lower rates of childhood obesity and SIDS for babies and lower rates of certain breast and ovarian cancers for mothers.
While the initiative focuses on upping breastfeeding rates, Lawless knows that some mothers choose not to breastfeed or have health issues that prevent it.
"Breastfeeding can be challenging for some families and may not be an option for other families," Lawless says.
The information about health benefits is passed along, she says, but the discussion with patients also is about safe feeding practices, whether formula or breast milk. It also focuses on simply bonding, which itself can bring physical changes such as helping regulate a newborn's temperature and heart rate.
"One of the biggest changes that we made was placing babies skin-to-skin (contact with the mother) immediately after birth and leaving them there until the first feed," Lawless says.
Previously, after the initial hugs and snapshots, newborns often were taken away for their post-delivery tests, assessments, and medication. Now, most of those procedures are done while the baby remains on the mother's chest if possible. Or in cases where the mother remains in the operating room and can't immediately hold the baby, the skin-to-skin bonding can start with the partner in the recovery room.
"We are committed to implementing evidence-based practices," Lawless says, "ensuring mothers delivering in our facility who intend to breastfeed are fully supported."
To view more of photographer Megan Deitz's work, go to www.megandeitz.com