December Spotlight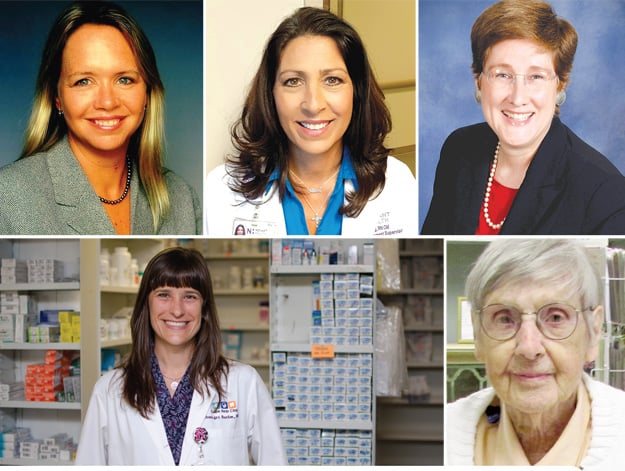 Providers Named Health Care Heroes
Several area women recently were among the winners of the 2014 Health Care Heroes awards, which are put on by WILMA sister publication Greater Wilmington Business Journal.
Female award recipients at the November 15 ceremony were: LAURA HARRIS (top left), Cataract Consultants, in the Innovation category; JEANLYNN KING, Novant Health Brunswick Medical Center, in the Nurse category; JANELLE RHYNE, Cape Fear Clinic, in the Physician category; JENNIFER BUXTON, Cape Fear Clinic, in the Professionals category; and MIRIAM "MIKE" HOLT, The Davis Community resident, in the Volunteer category.
-Vicky Janowski
Smart Start Hires New Director
Smart Start of New Hanover County has hired JANE MORROW as its new executive director, the agency recently announced. She succeeds Janet Nelson, who retired in June.


Morrow previously was the executive director of the Washington County Smart Start program and the executive vice president of the Albemarle Smart Start Partnership.
Most recently, she worked with state and local partners in a four-county area in North Carolina to help county leaders strengthen implementation strategies and training for early childhood systems.


-Jenny Callison
Kopious Jewelry Shown on 'Project Runway'
Locally based jewelry company KOPIOUS has found some screen time on the fashion design competition show Project Runway.
Kopious Jewelry founder and designer KRISTIN WOOD reached out in 2013 to fashion designer Karen Hulse Batts, who included Kopious pieces in her emerging designer show at Charleston Fashion Weekend. Soon after that, Hulse Batts was chosen as a contestant for Project Runway's season 12 and asked for more pieces from Wood's custom line that she could wear on the show. Fellow castmate Kate Pankoke borrowed some of the jewelry also to wear (such as the necklace shown above). When she returned to compete in the spinoff Project Runway: All Stars, which started again in October, Pankoke requested more jewelry to wear from Wood's line of higher end, hand-casted and carved pieces (kopiousjewelry.com).
-Vicky Janowski
UN Women-Wilmington Looks to Grow
UN Women-Wilmington reorganized this fall.
The group last month participated in an event about gender equity and members are meeting to plan the UN Women Walk to End Violence Against Women and Girls at Hugh MacRae Park on April 26.
The region has had a group since 1989 promoting all things related to the United Nations' work called the Coastal Carolina UNA-USA chapter. RACHEL FOX is spearheading the local offshoot of the state NC US National Committee for UN Women group that focuses specifically on UN initiatives for women and girls.
Though the UN Women walk in Wilmington will be in its sixth year next spring, Fox is trying to grow the group's activities and membership during the rest of the year as well.
-Vicky Janowski