December Men's Room
A Father's Tradition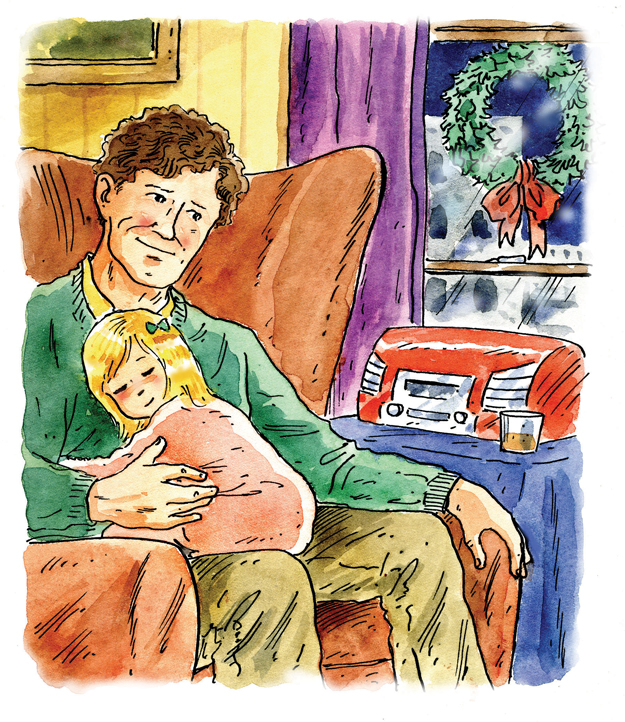 David Frederiksen, editor-in-chief of Men, Ink., is the father of two beautiful girls, with another on the way. He credits his infinitely patient wife, Julie, and close friends he affectionately calls the "fellas" for keeping him on the straight and narrow.  
It's Sunday evening, a week from Christmas.
"Olivia, the story's about to start, so come on downstairs," I yell. "Hustle now." The moment feels the same way it has in years past.
Olivia hops down the stairs, running smack dab into my loud demand, which still hangs in the air, heavier and longer than I would have liked. It's Christmas time, after all, and she's only 4. Easy, I say under my breath.
"That story of ours is about to begin," I tell her.
My firstborn is cute – blue-eyed and blond – in her footie pajamas. Her hair still smells like the end of summer.
I move the radio dial. I overshoot. I curse.
I dial it back slowly, until I hear the voice I'm looking for: John Henry Faulk. The legendary folklorist's Texas twang sounds the same as it has in previous years, though the scratchy recording now blaring at me and Olivia – his Christmas Story – is almost 40 years old.
In a big wing back chair we sit. It is dark and very, very cold outside. The furnace roars. I imagine the profanity it might use, if it could, trying to keep us and our 100-year-old house warm.
The absence of heat connects us to Faulk's main character, a 12-year-old boy, who walks barefoot ("blue with the cold") down a Texas country road to show his cousin the orange that "old Santee Claus" has brought him.
"Mister, we had the wonderfulest Christmas in the United States down to our place," the boy tells the narrator, a man who has stopped to give him a ride.
Olivia does not know where Texas is. She does not know the meaning of sharecropper, the nature of black and white relations, or Depression-era social services. She does know and delight in names like Little Alvie Lee, Sam Jackson, and the word young'uns.
"Young'uns is me, daddy," she says.
"Yes, it's you, Liv – all you," I say.  "Now, shhh, so we can listen."
Then, the story hits its mark.
"Merry Christmas. Merry Christmas … Christmas gift to you, Sam Jackson. Ya'll come on in," says the 12-year-old boy's father, a poor man living in rural Texas.
Together, the two families – one black, the other white, both desperately poor – share Christmas dinner.
My eyes well up, and I start to cry. It happens every year.
Olivia is almost asleep, the gas logs in the fireplace in front of us small, low and whimpering.
Faulk's Christmas story is ending. Another year, another Christmas gone by. Olivia will grow bigger; I'll turn older. It is colder and darker outside. I put my glass down.
I try, as I do every year, to crystallize what I've just heard and shape it into some perfect, resolute moment that I'll be able to look back on next year and find comfort in. But the words and images never come the way I want them to.
Maybe next year, I think, maybe next year.
To view more of illustrator Mark Weber's work, go to www.markweberart.blogspot.com.