December Look Book
Gifts For The Guys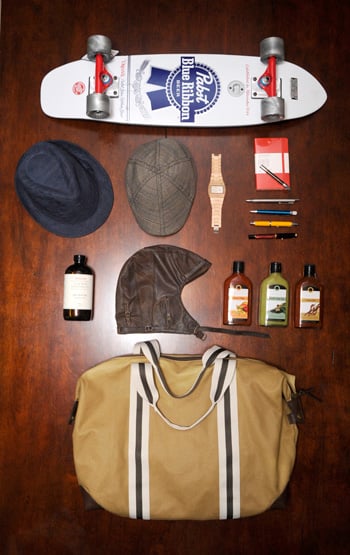 Check out these ideas for presents that can be picked up around town for the dads, brothers, boyfriends, husbands, or best buds on your gift list this year.
PBR skateboard with built-in bottle opener by Santa Cruz, $155, found at Momentum.
Fedora hat by D&Y, $18, Cabbie hat by Angela & William, $12, leather pilot's hat by Rothco, $28, all found at Planet.
Wooden watch by WeWood, $139, found at Bloke.
Moleskine notebook, $12, shake ballpoint pen by Porsche, $100 (on top of notebook)
SWIFT rollerball pen in steel gray by Lamy, $60,
TORNADO rollerball pen in blue by Retro 51, $24,
retractable fountain pen in yellow by Pilot, $166,
r600 Rollerball pen in black and red by Pelikan, $215, all found at Occasions.
Small Batch Tonic by Jack Rudy Cocktail Co., $14.99, found at Wilmington Wine.
Heat Collection hot sauce: Habanero Mango, Wasabi Green Tea, and Chipotle Slam by Blair's, $7.99 each, found at Fire & Spice Gourmet.
Canvas tote bag by French Connection, $128, found at Bloke.
To view more of photographer Jeff Janowski's work, go to www.jeffjanowski.com.