Decadent Holiday Desserts
Seasonal sweets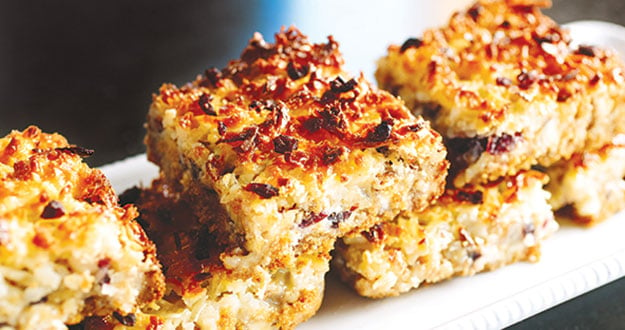 The Port City is home to several outstanding bakeries, making it easy to pick up a special treat for your loved ones at a moment's notice. But, should you decide to be the one to get the credit this holiday season, here are a few tried-and-true holiday treats from area experts that are sure to please.
Whatever You Want Bars
The Red Eye Bakery | 1011 North Fourth Street
"We love making bars at the bakery because they're easy, delicious, and incredibly versatile," says THE RED EYE BAKERY owner ELAINE BROWN.
"You can substitute any of the ingredients below for a variety of tasty alternatives. Try using pistachios or almonds instead of walnuts, different varieties of fruit or other toppings, or swapping out white chocolate for dark chocolate or peanut butter chips."
Ingredients
1 stick unsalted butter
1½ cup graham cracker crumbs
3 tablespoons sugar
1 cup walnuts, coarsely chopped
1 cup shredded coconut
1 cup white chocolate chips
1 cup Craisins, chopped (reserve half for topping)
1 can sweetened condensed milk Ingredients
Directions (Makes 9 bars)
Preheat oven to 350 degrees.
Cut butter into small chunks and place in a large glass measuring cup. Microwave at 50 percent power until melted. Add sugar and graham crackers to the melted butter and stir until combined.
Once combined, pour into a 9-by-9-inch baking pan and press down the graham cracker mixture until it forms a compact crust evenly covering the bottom of the pan.
Add white chocolate chips on top of the crust, spreading evenly. Repeat with a layer of nuts, ½ cup chopped Craisins, and coconut. Pour sweetened condensed milk evenly over the entire pan, and top with remaining Craisins. Bake for 20 minutes or until just browned, rotating the pan halfway through cooking.
Within a few minutes of removing the pan from the oven, loosen the bars from the pan by going around the outside edges with a spatula or knife. Allow to cool completely before cutting into squares.
Peppermint Bark
Apple Annie's Bake Shop | 837 South Kerr Avenue and 1121 Military Cutoff Road
"Peppermint bark is a great gift to give to loved ones," says Kristen Broome of Apple Annie's Bake Shop, who along with baker Jennifer Poleo whipped up this crowd pleaser. "It's easy to make and hard to resist. Peppermint bark, to us, means the holiday season."
Ingredients
24 ounces semisweet chocolate, plus an extra 8
ounces for tempering
5 large candy canes, crushed (more if desired)
Directions (Makes 2 pounds)
Remove candy canes from wrappers and place in a large sealable plastic bag. Remove all the air and seal bag, then crush candy into small pieces with a meat mallet or the bottom of a small saucepan.
Create a double boiler by placing a large glass bowl over a pot of simmering water. Add 24 ounces of chocolate to the bowl and stir until completely melted. Remove from heat. To temper the chocolate, add the extra 8 ounces of chocolate, a few pieces at a time, stirring until it is completely melted and has reached a temperature of 88 degrees with a thermometer.
Tear off two sheets of parchment paper, roughly 20 inches each. Pour half of the chocolate onto the middle of each sheet, then carefully spread the chocolate toward the edges using an offset spatula. Leave a small border of paper on all sides.
Continue to spread the chocolate until even. Sprinkle peppermint on top of the chocolate and allow to set. When the chocolate is firm, break apart. Store in an airtight container or place in cellophane bags for gifts.
Pain Perdu Gateau (French Toast Cake)
Far from France | 1474 Barclay Pointe Boulevard, Suite 204
"The literal translation of Pain Perdu is 'Lost Bread,'" says JOSEPHINE PELLETIER, co-owner of FAR FROM FRANCE in The Pointe at Barclay.
"This recipe was created during World War II in France as a way to use hard bread when food was scarce and nothing could be wasted. This is why I like to make this during the holiday season, to remind us that Christmas is, before anything else, about coming back to the basics of life and being content with simple things made extraordinary by love and a little time spent in the kitchen."
Ingredients
Cake
6 cups of baguettes, cut into cubes
½ cup pecans, chopped
1½ cups whole milk
½ cup heavy whipping cream
3 large eggs
½ cup firmly packed light brown sugar
1 large egg yolk
1 teaspoon vanilla extract
1 teaspoon cinnamon
½ teaspoon fine salt
½ teaspoon nutmeg
Cake Topping
¼ cup firmly packed light brown sugar
¼ cup unsalted butter, softened
½ cup pecans, chopped
Whipped Cream Topping & Chocolate Drizzle
2 cups heavy whipping cream, plus two tablespoons
2 tablespoons sugar
½ cup dark chocolate chips
Directions (Serves 6-8)
Preheat oven to 350 degrees. Lightly grease six to eight mini bundt pans* with butter.
For cake topping: Mix brown sugar, softened butter, and pecans. Place the topping in the bottom of the mini bundt pans.
For cake: In a large bowl, combine bread and pecans. In another bowl, combine milk, cream, eggs, egg yolk, vanilla, cinnamon, salt, nutmeg, and brown sugar. Pour milk mixture over the bread cubes and pecans and let stand for a minimum of 20 minutes. It is best to soak overnight if time allows.
Spoon on top of topping mixture in mini bundt pans and bake for about 20-25 minutes until golden brown or when a toothpick comes out clean.
Allow to cool for 10 minutes before unmolding.
For whipped cream: Mix 2 cups of cream and sugar. Beat with an electric mixer until firm peaks form. Create a double boiler by placing a large glass bowl over a pot of simmering water. Melt the chocolate chips by stirring frequently, then add 2 tablespoons of cream to the chocolate and continue stirring until smooth. Top each cake with whipped cream and a drizzle of chocolate. For presentation, add a garnish of star anise or a vanilla bean. Serve warm or at room temperature.
*Note: A loaf pan or baking dish can be used instead of mini bundt pans.
To see more of photographer Lindsey A. Miller's work, visit www.lindseyamiller.com