Dash Before Dinner
Area Turkey Trots abound for Thanksgiving tradition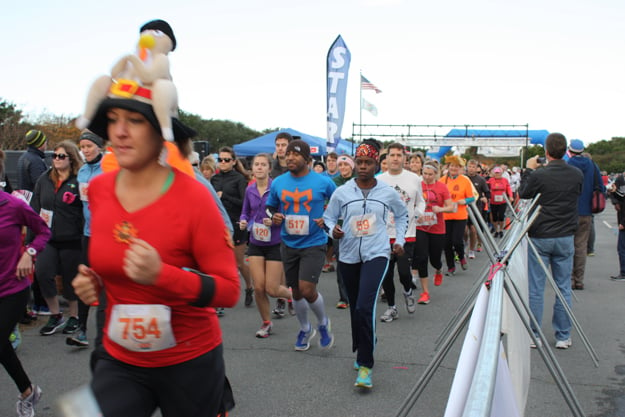 When it comes to running, it's hard to find a race that pleases both the casual and competitive runner more than a Thanksgiving turkey trot.
With a brisk morning chill in the air, spirited participants run or walk a few miles among family, friends, and fellow racers decked out in costumes. For some, participating in a turkey trot has become a family Thanksgiving tradition. For others, the turkey trot offers a great way to burn a few calories before indulging guilt-free in the Thanksgiving feast.
"Work off those pre-Thanksgiving calories with the turkey trot, because we know that you're going to go home and eat to your heart's delight, which we encourage. But this way you can feel a little bit better about all of that food you eat," says Jessica Loeper, director of outreach for Cape Fear Habitat for Humanity.
Habitat for Humanity's eleventh annual Wrightsville Beach Turkey Trot 5K and 1-mile fun run circles the Wrightsville Beach Loop. All proceeds from the event registration fees go to building a home in 2016 for a local family.
"By running in this race, your money and your support is going directly towards helping a family in need," Loeper says. "The families that we serve are hard-working families here in the community. They have jobs, they're able to pay a mortgage once they're finished building their home, but they just need a little support."
For the first time this year, the Habitat for Humanity's race registration form will ask participants if they'd like to volunteer with building the house.
"They'll actually really be able to be hands on with this house and make even more of an impact than just participating in the race," Loeper says.
Last year, Habitat for Humanity's turkey trot in Wrightsville Beach drew over 2,000 participants, a record turnout for the event. With a growing number of participants each year, Loeper hopes for another busy turkey trot this Thanksgiving.
There are also other Thanksgiving races in the region including the Wilmington West Rotary's ninth annual Gallop for the Gravy 5K and 1-mile fun run. The race raises money for three local nonprofit organizations, which work to feed the hungry both locally and nationally.
"When the event ends, you leave with a great sense of community, all of us humbled by everything we have to be thankful for, but sharing a great feeling of accomplishment that we got out there and did something to help others," says race organizer Kate Brandis.
For those who want to get in a good workout after indulging in their turkey dinner and pumpkin pie, the Wilmington Roadrunners Club will host its eleventh annual turkey trot on the Saturday after Thanksgiving. The race is run over four miles of trail at Carolina Beach State Park. Race proceeds benefit future projects at the park and the Fort Fisher State Recreation Area.
HAPPY FEET
Wrightsville Beach Turkey Trot
Thursday, November 26
Wrightsville Beach Loop
Info: capefearhabitat.org
Gallop for the Gravy 5K
Thursday, November 26
Wilmington Family YMCA
Info: goo.gl/d3muiH
Roadrunners Turkey Trot
Saturday, November 28
Carolina Beach State Park Marina
Info: wilmingtonroadrunners.org