Dark Night, Bright Stars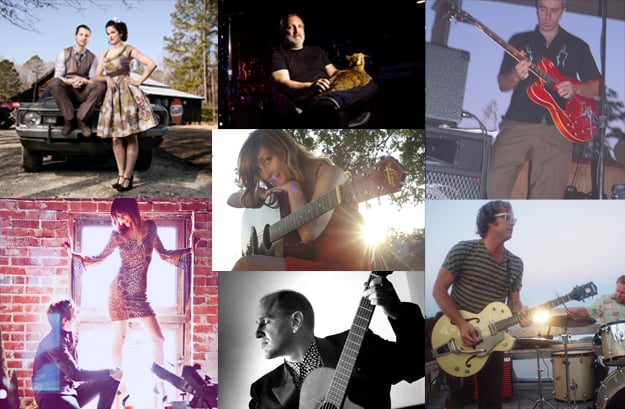 From blues to rock to surf music, the Port City music scene offers some soul for everyone. WILMA asked local blues singer/songwriter Bibis Ellison about her local musical influences. And, it unfurled a web of earnest, talented songwriters and free-wheeling makers of music. Catch these song birds around town.
Singer/songwriter
Resides: Wilmington and Chapel Hill
Style: Blues
Local influence: Fred Champion of Glow in the Dark Scars
"I was pretty intimidated by him when I first met him, but he's just really smart and plugged in to what's going on musically…Fred really pushed me to perform my own stuff and gave me the opportunity and venue to do that. He's been doing this grassroots music scene in his apartment [and at his formerly owned] CD Alley. He's been the guy to talk to. He's inspiring to me because he plays this great music, but quietly. He's just a kindred spirit for me."
FRED CHAMPION, Glow in the Dark Scars
Songwriter/drummer/bassist/keyboardist/rhythm guitarist
Resides: Downtown Wilmington
Style: Anti-folk indie garage rock nerdcore
Local influence: Jamin Belmont and Hope Henderson of My Wonderful Machine
"Because of their work ethic, determination and integrity…They do what they love to do. Plain and simple. A little secret about Jamin: he is the master of catchy inspirational quotes. My current favorite one is, 'If you're hating, you ain't creating.' Ain't that the truth."
Fred on Brian: "He has a very good ear for what works and doesn't work musically. His pop aesthetic is golden and I trust him to give honest and constructive feedback to me on my own recordings."
Guitar
Resides: Midtown
Style: Rock 'n roll and indie pop
Local influence: Justin Lacy and the Swimming Machine
Hope on Brian: "His band has 12 people in the band with horns and back-up singers. It's real intricate and has a New Orleans-feeling to it."
HOPE HENDERSON, My Wonderful Machine
A fairy on bass, keyboards and vocals.
Resides: Midtown
Style: Romantic, western, psychedelic, rock n roll magic
Local influence: Paco Strickland
"I appreciate beautiful and romantic music and his music is very beautiful and romantic… He's super talented and a real original in town."
PACO STRICKLAND
Guitarist
Resides: Historic district
Style: Mostly Spanish (flamenco and classical), Middle Eastern and Latin
Local influence: "As for guitarists, bluesman Jake Horton is my favorite local guitarist. He has made some of the biggest strides in making the local blues scene what it is today. I like how he plays—what he has to say. He has a great tone and sound. He's the most telling guitarist; he makes his guitar speak. He tells it like it is and you hear what he says."
JAKE HORTON, Ten Dollar Thrill and the Phantom Playboys
Guitarist
Resides: downtown Wilmington
Style: Old school blues and rockabilly based on the 1950s and 1960s
Local influence: Seth Moody
"I've played with him and he's probably one of the best musicians in town overall. I appreciate the fact that he's so versatile."
SETH MOODY, The Noseriders, Da Howlies and The Carvers
Stand up bass, guitar, Moog synthesizer and theremin
Resides: Carolina Beach
Style: Late 1970s New Wave
Local influence: Tiffany Reece Forsythe
"She is a really good songwriter and great musician. When she's playing, she might as well be folding clothes. She's a really smooth instrumental musician and great vocalist."
TIFFANY REECE FORSYTHE, The Barnraisers
Vocals, banjo, guitar
Resides: Downtown Wilmington
Style: Straight up classic country, honky tonk
Local influence: Jimmy Phillips, Rural Swine
"As far as we're concerned, they are local music legends. Somehow they can incorporate these classic country influences, but they are more of a punk band."