Curating the Art of Film
Natalie Lentz is part of the team putting together next month's Cucalorus Film Festival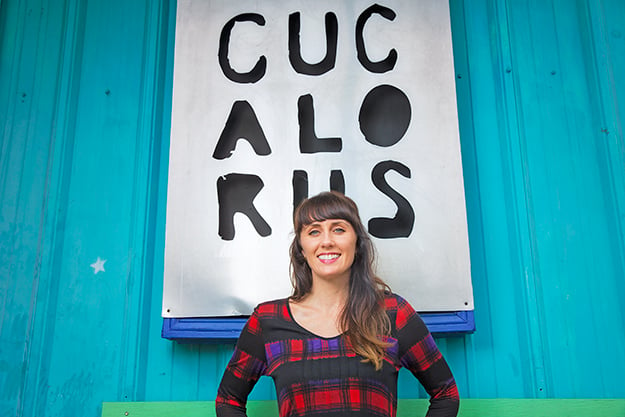 When NATALIE LENTZ studied museum studies in graduate school, little did she know that the art exhibits she would one day curate would involve films instead of paintings and sculptures. But the senior programming associate at Cucalorus Film Festival would not have it any other way.
"My job here is very similar to what I would be doing at a museum but instead of looking at static artwork, I am doing that with film," she says about working with the annual film festival, which takes place in November.
Lentz started volunteering for Cucalorus at the beginning of 2013 shortly after moving to the area. She helped with its fundraiser, An Evening on the Red Carpet, and then went on to work in the box office as a seasonal staff member during the fall 2013.
As programming coordinator, a full-time position she has held since 2014, Lentz manages all film submissions that come in to the festival. With more than 1,800 short- and feature-length submissions, Lentz is busy cataloguing each entry into a database system and overseeing the programming process, in which her team of seventy volunteer programmers watch and rate each submission. Every film that enters Cucalorus is watched by at least two programmers, and Lentz is in charge of overseeing this system.
Once films are being considered for the festival, Lentz researches the film and filmmaker, learning if the entry has been screened at other festivals and studying the synopsis of the film. She also helps coordinate Cucalorus' residency program as well as the film schedule for the entire festival.
While Cucalorus was Lentz's first foray into working for a film festival, she has been interested in film from a young age. She took a film class in high school and considered majoring in film during college but opted for art history and interior design instead.
For about eight years after college, Lentz served as a commercial interior designer in Winston-Salem. Her favorite part of interior design work involved creating presentation boards and designing the look and function of spaces.
"I enjoyed pulling all the finishes together," she explains.
While she appreciated working in the interior design industry, she missed studying art history and wanted to pursue museum curatorial work, so she earned a master's degree in museum studies from University of North Carolina at Greensboro.
After graduating with her master's, a friend convinced her to move to Wilmington, and she fell in love with the area, she says.
"The people in Wilmington are great. I love the landscape, the coast, the riverfront," she says. "Wilmington offers a good balance of being by the ocean and being downtown around creative people."
At press time, Cucalorus staff was still busy finalizing the schedule for the twenty-second annual festival, to be held November 9-13, but Lentz guarantees the festival will offer a thrilling lineup of films.
"Every year, we have new and exciting films to see," she says.
Of note this year, Cucalorus will feature the works of a larger number of female filmmakers than ever before, with about 50 percent of the festival's films being directed by women. Lentz emphasizes that rather than touting this fact as an accomplishment, the staff recognizes that screening the work of female filmmakers is "something that should be happening."
Lentz says her job with Cucalorus is a great fit with her personal strengths and interests.
"I like working in details a lot, and I enjoy helping other artists to be able to showcase their work," she says. "Film is fresh and new, the latest thing, and I like being in the very current world."
To view more of photographer Chris Brehmer's work, go to www.chrisbrehmerphotography.com