Cup Crawl
Annual event brings coffee and community together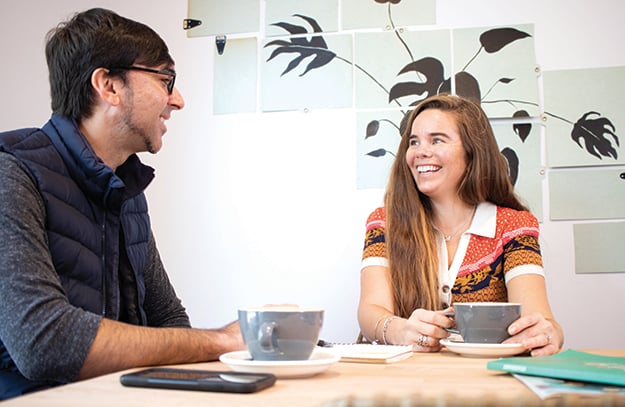 What started as a love for coffee and a fun idea has percolated into a major event that's brewing widespread interest.
"I saw pub crawls around and thought why can't there be something that's more family friendly? People love coffee, why not bring Wilmington's coffee community together?" KRYSTA KEARNEY, manager of 24 SOUTH COFFEE HOUSE, says about the WILMINGTON COFFEE CRAWL coming to downtown Wilmington later this month.
For Kearney, one call to LUNA CAFFÉ owner WILL CHACON was all it took. Together, they founded the Wilmington Coffee Crawl, which is now in its second year.
"Last year, we didn't even know what to expect," Chacon says. "But, when we noticed people were coming from Raleigh and Fayetteville and Jacksonville saying, 'We're so excited this is happening,' we were like, 'Wow.'"
"That … made it worth it for me, that we're actually doing something here," Kearney adds.
This year, Kearney and Chacon are going grande with seven locations, live music, arts, demos, and a Roasters Market.
National specialty magazines Fresh Cup and Roast, as well as North Carolina's Our State magazine, have all called to cover the crawl. Kearney describes it as "a caffeinated journey through historic downtown."
"Not everyone comes to downtown. They'll go to their favorite restaurant, and that's all they know. They don't actually see all the blocks in between and what's actually changing here," Kearney says.
Tickets for the self-guided tour, just $10 and available online (wilmingtoncoffeecrawl.com), went on sale in November and have already surpassed last year's totals.
The crawl runs from 10 a.m. to 4 p.m. on January 26. (Crawl hours for WATERLINE BREWING CO., which is the site for the Roasters Market is noon-5 p.m.)
Check-in is at GRAVITY RECORDS, 612 Castle Street, where ticket holders will get the official Coffee Crawl mug, the crawl map, and bracelet for full access to the free samples, deals, and discounts of the day plus free trolley service to all seven crawl stops.
New to the event this year is LOVE, LYDIA BAKERY & CAFE on South Third Street, the BOOMBALATTI'S location on North Fourth Street, and Waterline Brewing on Surry Street near the Cape Fear Memorial Bridge. Returning is Front Street's 24 South Coffee House that Kearney manages, Chacon's Luna Caffè on Castle Street, FOLKS CAFÉ on Princess Street, and BROOKLYN CAFÉ on North Fourth Street.
"We wanted to have something for everyone," Chacon says. "It goes through all the different districts … the Arts and Antiques District, the historic district, the Brooklyn Arts District, South Front District – all the hubs."
Roasters are coming from as far away as Georgia to spill the beans on the latest techniques in coffee making.
Check out demos on roasting at Folks; pour-overs and latte art at Love, Lydia; Chemex brewing at 24 South; cupping – or tasting – technique at Luna; and AeroPress at Brooklyn Café.
"AeroPress is a mix of a pour-over and immersion brewing, which means the coffee grounds actually sit in the water for a period of time which gives it a fuller taste. It's a cleaner cup of coffee," says Luna Caffè barista EMMA NELSON, who will also be doing a demo on AeroPress at Luna.
Nelson attended the Crawl last year with friends.
"They loved it. I was flabbergasted by how busy it was," says Emma Nelson, barista at Luna Caffè. "I feel like it's good to get more people involved in the coffee scene, to have more people drinking better quality coffee. The Coffee Crawl is a really cool way to do that."
Crawlgoers will get to sample things such as nitro cold brews, which is cold coffee charged with nitrogen. Boombalatti's has face painting and homemade ice cream tutorials.
Prizes also are up for grabs. Coffee baskets, gift cards, and a Vitamix blender will be raffled off.
End the day at Waterline for the Roasters Market, food trucks, balloon making, and live music by indie-folk band Sweet Sweet.
This year, the crawl benefit four different charities: Cape Fear Enrichment Program, Full Belly Project, The Carousel Center, and The Coffee Trust.
"After all Wilmington has been through recently, it will be nice to bring people out, something the whole family can enjoy that's affordable," Kearney says. "This unique cultural experience is unlike any other event here in Wilmington. It highlights the soul this community has while celebrating all things coffee."
Wilmington Coffee Crawl
Saturday, January 26
10 a.m.-4 p.m. (noon-5 p.m. for Waterline Brewing Co.)
Check-in location: Gravity Records, 612 Castle Street
Tickets: $10
Want more WILMA? Click here to sign up for our WILMA newsletters and announcements.