Cultural Infusion
Practicing the art of tea time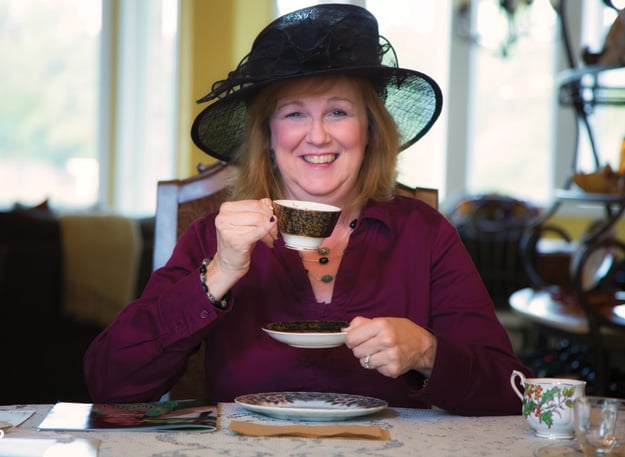 In the land of sweet tea, DIANE TRUBIA is trying to bring back the art of tea time.
A transplant from upstate New York now living in Leland, Trubia's connection to tea-time roots back to her childhood, when she and her cousin would host tea parties with their dolls. This playtime evolved into a daily habit, one she shared with her mother and her grandmother, and then, with her own daughter.
One of the pleasures of tea time, Trubia feels, is to connect back to one's family and one's history.
"My mother always used to say, when you look at some of the pretty (teacup) handles, 'Imagine the hands that held it and the conversations that were held over this cup of tea,'" Trubia recalls.
When she lost her mother twenty years ago, keeping the daily ritual was a way to keep her mother alive and present with her. Now, this love for tea has expanded into what she playfully calls "a ministry," where Trubia offers tastings of different teas, hosts themed parties, or educates clients on how to host their own tea time.
There is, of course, the growing body of research boasting tea's health benefits, which Trubia is eager to share with her clients. But for Trubia, tea is also a creative act, one where people can use their family's most treasured – and seldom-used – belongings to create and share new moments.
She particularly enjoys throwing themed parties, which allows her to tap into her love of history. Her parties have included themes of "Last Dinner on the Titanic," "Paris," "Jane Austen," and "Downton Abbey."
Trubia notes, however, that hosting tea does not always have to be a grand affair. The most important thing, she believes, is simply to give oneself permission to use the heirlooms and the finery, to have that moment of pause.
"So often we say one day we'll use (the heirlooms), because people pass them from generation to generation, because they're special, because that's what grandma had or great-grandma. But when is that someday?" Trubia says.
It is this someday that Trubia aims to give her clients. And while she notes that there is some work involved in hosting a tea party, she views the "fussiness" of tea as part of its benefit.
"Using the fancy stuff you're going to move a little more cautiously, a little more gracefully," she says. "The formality kind of changes your momentum. It creates a behavior but in a positive way.
"With coffee, we all grab and go, and we consider that our fuel and how it gets us going." Trubia says. "But with tea, it is more about that pause, about stopping what you're doing, and that it is something elegant or special."
ENGLISH TEA
In light Downton Abbey's season five premiere this month, Trubia plans to hold an afternoon tea inspired by the show on January 9. "We will be dressing up, preparing selected foods from their cookbook, and more," she says.
For more info, contact Trubia at blessingsflow02@aol.com.
To view more of photographer Chris Brehmer's work, go to www.chrisbrehmerphotography.com