Cuisine Chug
Carolina Beach spot opens up juicing option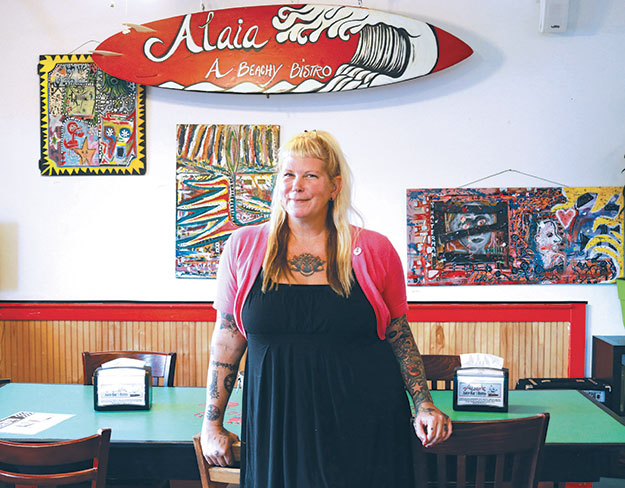 When STACI MURRAY was seventeen, her hopes of competing as a collegiate swimmer were dashed by a car accident that left her with a severe shoulder injury.
Several surgeries followed, and Murray experienced a number of setbacks in her recovery, which would eventually cost her a collegiate scholarship.
"Swimming was my life," she recalls.
When traditional medicine failed to produce the results Murray was seeking, she began to explore alternative medicine and therapies. In her studies and research, Murray began to experience healing not only through alternative treatments but also through nutrition.
In her quest for information, Murray traveled across the country, working under numerous chefs. She eventually settled with her son in Carolina Beach, lured from Ohio by warmer weather and the chance to live by the sea.
Murray says she and her son eagerly embraced the laid-back Pleasure Island lifestyle, but she wished to see more healthy dining options in the area. Almost from the start, she began thinking about opening a juice bar similar to those she had frequented while living on the West Coast.
"There is a lot of fried food on the island, and I wanted to offer something fresh, clean, and healthy," Murray says.
ALAIA JUICE BAR & BISTRO began as a walk-up counter at the Islander Kwik Mart Sunoco gas station in Kure Beach in the spring of 2017. Only it wasn't yet a juice bar because the space was so limited that Murray couldn't juice there. So instead, she used the opportunity as a way to test recipes and gauge customers' reactions to her menu.
The response was strong, from locals and visitors alike.
"There were days last summer that we had a line across the street on 100-degree days," Murray says.
At the urging of Soul Flavor owners Mimi Mowery and Chris Newton, Murray decided to take over the space next door to Soul Flavor this spring. The success of the walk-up counter proved to her that the island was ready to embrace her healing cuisine.
With a full-size kitchen as well as a dining area, Murray could now incorporate juicing, offer indoor seating, and expand her menu at the new space, located at 716 North Lake Park Boulevard.
Murray's menu focuses on fresh-squeezed juices and healthy breakfast and lunch items, such as acai bowls, wraps, and salads.
For Murray, most days begin and end with prepping produce. She admits it's a lot of work, but she's always wanted juice to be a part of her restaurant.
The juice menu contains seven signature organic juices and as well as a build-your-own option, allowing customers to create juices that suit their specific needs.
Alaia's juices are created with a Nutrifaster extractor, which separates the pulp from the juice of the fruit and vegetables. While this method requires many more pieces of fruit per cup, the juices are more nutrient dense, Murray says.
The drinks are best consumed within thirty minutes of juicing for the body to receive the full benefit of live enzymes in the produce, she adds.
"To me, it really is the best way to get as many nutrients into your body as possible," Murray says. "In just one juice, you're getting multiple whole fruits and vegetables into your body, and you can change up the ingredients depending on what your body needs."
For those seeking a more traditional meal, Alaia customers can also build their own salads with a choice of six proteins, four cheeses, and plenty of additional toppings.
Many of the wraps are vegetarian, although customers also will find turkey, chicken, and bacon options. There is a tuna salad prepared with apples, sunflower seeds, celery, and green onions. A cooler is stocked with a selection of acai bowls and salads for those on the go.
Top-selling breakfast items include bowls that feature organic acai blended with a choice of blueberry or raspberry and vegan protein powder, chia seeds, banana, and coconut water; and The Frieda, a pressed tortilla stuffed with scrambled eggs, black beans, feta cheese, and pico de gallo.
Beyond serving flavor-packed power foods, Murray's mission is to nourish not only the body but the mind as well, by sharing the benefits of food as medicine with her customers.
"Education is a huge part of what I do," she says.
To view more of photographer Terah Wilson's work, go to terahwilson.com.
Want more WILMA? Sign up for our WILMA Weekly email and announcements at WILMAOnTheWeb.com.