Creature Creations
Artist squirrels ceramic spirit animals around town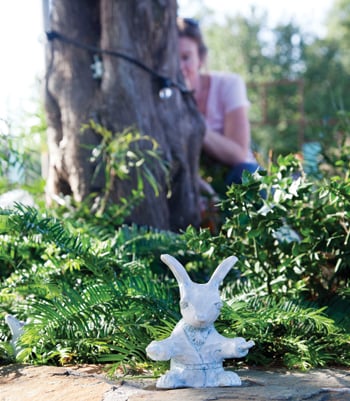 Perhaps you've discovered a ceramic turtle sculpture that mysteriously found its place alongside your lipstick in the rubble of your purse, or maybe you were given a shiny glazed otter by the bartender when you stopped in Cape Fear Wine and Beer for a drink after a long day.
If you've crossed paths with one of these critters that have been roaming around Wilmington, consider yourself involved with WILDBEINGS, "part community art project, part spiritual journey," as LAURA refers to it.
Laura is the creator of Wildbeings. Her last name remains anonymous for the sake of the project and because the deliverance of these quirky little beasts is more about the community created around them than the creator behind them. By day Laura is a mother, wife, sculptor, and writer, by night she is a deliverer of spirit animals.
It all began as something to do for kicks. Laura, who studied ceramics and received an MFA in creative writing from University of North Carolina Wilmington, started hand-sculpting clay animal figurines in her home. Laura and her friends decided to stick some of those sculptures in people's purses and pockets, laughing as they imagined the person's reaction when they found it.
But soon she noticed that people were talking about it.
"People started engaging with it, and someone suggested that I started tagging them," Laura says.
People who find the Wildbeings can go to the blog tagged on each sculpture (www.wildbeings.blogspot.com) and read anecdotal posts about why they received their particular spirit animal.
Some of the blog posts give positive council. One post refers to a person who happened upon one of Laura's grouses, birds that can fly but usually don't. It reads, "Whoever got this little bird: you have wings! Don't die in the grass! Fly up!"
Laura first noticed her own human connection with animals when her dad died. The morning after her father passed, Laura and her mom spotted a black snake in the yard. Later, when her dog died, a black snake again made an eerie appearance in her yard. Laura believes that certain animals can have inexplicable meaning to a person – a spirit animal in a sense.
"I guess the idea is it's an animal that you've always been drawn to in your life," she says. "It happens to everybody, you just don't notice it until you start to notice it."
The project has become a community movement of sorts. Sometimes she hands the animals directly to a person or gives them off to "capable gifters," as Laura calls them in her blog, to pass along.
"Part of what has made it continue is people have such personal reactions to it," Laura says.
She pairs a person with their "spirit animal" for her own reasons, but once the person has found their animal it becomes their own story.
"It's not like you're getting a bad joke," Laura says, "it's like you're getting something kind of cool and people attach their own meaning to it."
To view more of photographer Hilary Walker's work, go to hilarywalkerphotography.com.