Couples Cuisine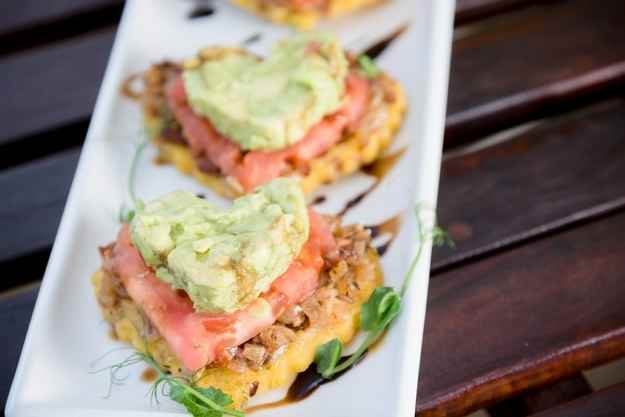 Those lucky enough to have dined at CEVICHE'S in Wilmington know all about the unique atmosphere and inspiring menu, which pull the best flavors from the country of Panama to create an authentic meal full of fresh fish, tropical fruit, plantains, and more.
LAURA and HUNTER TIBLIER opened the doors to Ceviche's in October of 2014, and word spread quickly about the dishes being served in the 800-squarefoot space at 7210 Wrightsville Avenue. "Hunter and I were inspired on a family trip – which was my first time visiting and meeting his family – to Panama," Laura says. "We walked into the fish market where they sell all the fresh catch and the 'ceviche lady' had twelve different kinds of ceviche and served it up in a cup with crackers."
Ceviche is a seafood dish that is popular in Latin American countries. It consists of fresh, raw fish that is cured in juices such as lemon and lime and seasoned with spices.
"Hunter had always made ceviche – people asked him to sell it – so a light bulb went off in my head. I said, 'That is what we should do,'" Laura recalls.
The perfect location was already available, so the couple jumped on it.
"The building became available the day before we left for our trip, and I knew I wanted it, but I didn't have the idea until I saw the ceviche at the market," Laura says. "The build-out was difficult with the small space and it never having been a restaurant prior to us. But, we persevered through setbacks with building and the health department. It took us ten months to get open."
The small space and word of mouth made for an almost immediate need to expand.
"We didn't really consider that we would need more space," Laura says. "But, it was probably within the first month that it was clear that our clientele wanted more space for six and eight tops. Also, people like to make reservations, and we have not been able to with our small size."
Then, the space next door became available, and the ability to expand at the current location was possible. The addition is expected to open soon.
"The current space will become a rum bar with specialty drinks. Our mixologists are busy creating fabulous tropical drinks, and all the menu items will still be served, as well," Laura says.
"That space will not change too much – just some updates to the back bar to accommodate some beer on tap and liquor. There will be a hall connection to the next-door space that will have only dinner service but will be just as interesting and fun.
A back room which will be called the jungle room – we think – and will be very open and light continuing the tropical theme and will be able to accommodate private parties or secluded special celebrations."
Since its opening, Ceviche's menu has remained authentic thanks to Hunter's upbringing.
"Hunter and his family grew up in Panama in what is known as the Canal Zone (the area surrounding the Panama Canal and owned by the U.S. government)," Laura says.
"His father was a boat captain who took the ships through the canal. He and his father fished (in both the Atlantic and Pacific oceans), and he practiced ceviche trying to make it as good as his father's ceviche."
The restaurant's menu has been pretty consistent, with a few additions and deletions, since it opened.
To view more of photographer Erik Maasch's work, go to websta.me/n/emaasch