Costume Change
Opera House Theatre Company costume designer Juli Harvey finds her creative outlet working backstage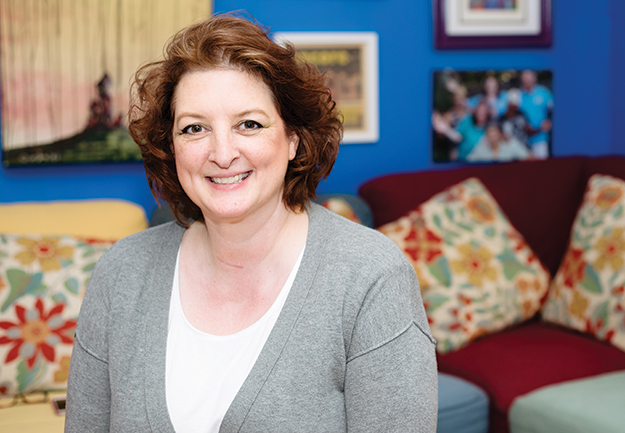 If there is anyone who truly understands the saying "The show must go on," it's Juli Harvey. ­
A California native, Harvey arrived in Wilmington twenty-four years ago with her husband when he transferred from his job outside of San Diego. And though she'll humbly admit she just "kind of fell into the theater business" at Wilmington's OPERA HOUSE THEATRE COMPANY, her costume designs evoke nothing less than a refreshing sense of nostalgia. And that aforementioned classic opera house adage? Well, that, too, has a different meaning for Harvey few know about. Until now.
"As a nurse during the day, there needs to be a way for me to disconnect at the end of the day and flip that switch off," Harvey says. "I read a study at some point in the mid-1990s that said something like 10 percent of nurses were alcoholics and 15 percent abused prescription drugs. That's scary. I guess I'm one of the lucky ones, because for the last fifteen years, being able to put something pretty on someone at the Opera House has been nothing less than cathartic."
It's kept me going even during my toughest times," Juli Harvey says of costume designing.
Harvey's voice cracks as she recalls what it was like to cope the day one of her favorite patients finally lost their battle with cancer.
On that day, Harvey had the final dress rehearsal for Thoroughly Modern Millie, a fun and whimsical musical company staged several years ago that embodied the direct opposite of the feelings Harvey carried that day – sorrow and guilt.
"I just didn't want to go, but then I remembered that catchphrase: The show must go on! So, I went," she says. "I tried not to let anyone know what happened, but I don't have a poker face. As soon as the lights went down, I cried. At the end of the show, there is a tap number that becomes so loud you can feel it in your chest. And for some reason that noise, that tapping, made me feel so much better. It mended my broken heart."
Since, Opera House has become more than just a second job, but more of a cleansing experience, Harvey says.
As its costume designer there, Opera House has also become a kind of second family to Harvey.
When she reflected on the path that lead her to Wilmington, she chuckled a bit, because to be completely honest, Harvey originally had no idea how the theater worked. And she's proud to admit it took many hands within the Opera House community to help guide her. In fact, she didn't even know what a theater company was, let alone understand the difference between a company and a venue. With no professional training, Harvey simply began making costumes based off of her modest childhood memories.
"For example, I always see Mary Poppins in a high, lace-collared blouse and small black hat with a little flower. And I always remember what it felt like to lay a white sheet on the floor as a kid and lay in front of the TV to watch her. I try to combine those two things – innocence and authenticity. Anything different, and she would just be some other nanny," Harvey says.
Harvey says the first time she ever saw live theater was when she turned twenty-four – when her husband took her to see a performance of My Fair Lady.
"It was the most amazing thing I had ever seen," she recalls. "The stage was so far away that you couldn't see anyone's faces. But I was seeing something with real people, that I had only ever seen on The Wonderful World of Disney."
As nurse and lead costume designer at Opera House, here's where Harvey's two worlds join together. While nursing is instinctual for Harvey and something that she does very naturally, she does so, because it entails spending time to make someone better and therefore walking away (hopefully) feeling as though the world a little bit better. Likewise, at least for Harvey, Opera House provides the same opportunity – to change someone, to make them feel differently than they did coming through the door simply by changing their clothes.
"There's something about changing someone entirely; you can make them look short, tall, thin, or fat, and I find that fascinating." Harvey says. "You should feel something when you leave the theater, and for me I can only do that through costumes. If you can't spend a little time making the world a little bit better, then you're missing the entire point of theater."
To view more of photographer Erik Maasch's work, go to ejmphotography.org.
​