Conversation Starters
Curious Items can add bit of 'Whatever' to a home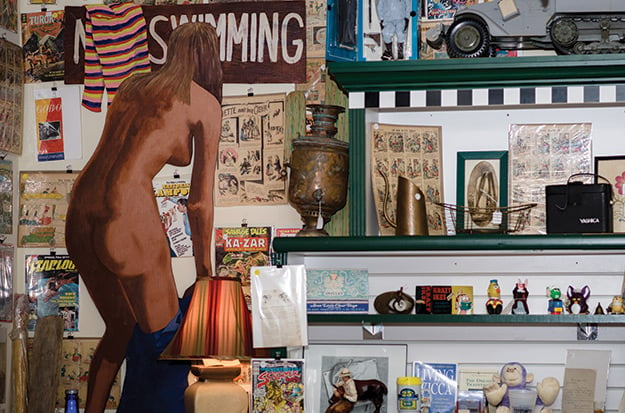 Of all the words that could be used to describe what's for sale in WHATEVER…WILMINGTON, "boring" isn't one of them.
Owner KENYATA SULLIVAN calls his store at 608 Castle Street a "pop culture curiosity shop." And since the store's December opening, the curiosities have come and gone.
They're the kind of objects and collectibles, including antiques, vintage items, and movie and TV props and memorabilia, that start conversations when added to a home's décor.
Consider, for example, a recently sold chandelier adorned with a monkey.
Made in Italy in the 1970s (Sullivan and his employees extensively research their inventory), the chandelier features a monkey holding what appears to be a green apple.
But there is, of course, more to the story.
Only a handful of the chandeliers were made in varying monkey designs, Sullivan explains, and one of the others has, in the past at least, hung from the ceiling in a New Orleans bar. The bar's chandelier inspired the writers of Pirates of the Caribbean to create Jack the Monkey, the comic and sometimes creepy pet of the movie's villain, according to Sullivan.
The customer who bought Sullivan's monkey chandelier "recognized Jack the Monkey and said, 'This has got to hang over the pool table,'" Sullivan says.
Some recent items in stock at Whatever…Wilmington include: an original backsplash from a Close Encounters of the Third Kind pinball machine, a Cabbage Patch Kid, a wedding photo used on the set of One Tree Hill, a Welcome Back, Kotter card game, and a framed illustration of George Washington that includes a tiny hair from the first president's head (complete with authentication papers).
Sullivan, who started selling on eBay eighteen years ago, gets excited when he starts talking about what he's got for sale at the store and at the warehouse he leases.
"This is what we do. We find things, and we buy things, and we sell things. We try and find things that you can't find somewhere else," Sullivan says, after giving some background information on a One Tree Hill prop he listed on his eBay store. The Ramones bag was carried by Hilary Burton's character, Peyton.
Though not technically for sale, a prop for Under the Dome at Whatever…Wilmington has been a memorable item. It's the cow from the CBS series that was based on a Stephen King novel and filmed in Wilmington beginning in 2013. Fans of the show will know which cow – the unfortunate creature who gets cut in half as the dome falls over fictional Chester's Mill, Maine. It's a gruesome, yet memorable, scene from the first episode of the series.
Taylor Parson, an employee of Sullivan's since 2014, says the first half of the cow to be displayed in the store has already caused a stir. "This has drawn a lot of attention," she says, patting the Plexiglass-mounted prop.
Her words were underscored by the reaction of a customer who wanders in and immediately asks, "What is that? Oh my gosh."
Parson explains where the cow came from, and before he leaves, the customer pledges, "I'm going to come back. This is definitely the most interesting store in Wilmington."
To view more of photographer Erik Maasch's work, visit websta.me/n/emaasch