Constructing Couture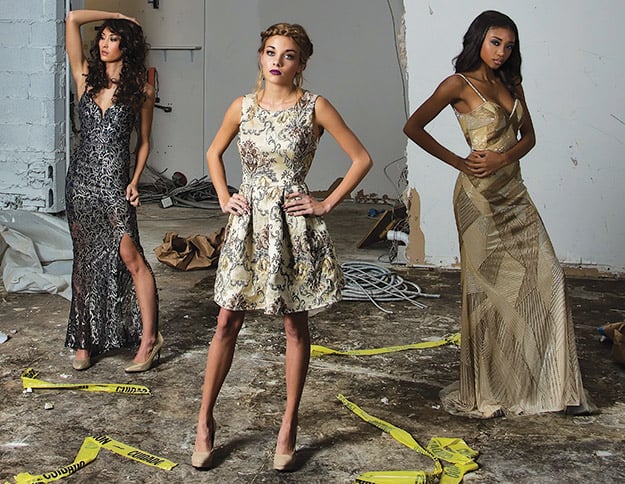 Whether your materials are steel and concrete or beads and brocade, you alone are the architect of your style. And this year, it's time to give your old standby LBD a run for its money.
Shimmering golds and royal blues are this season's sure stunners. Look for uniquely textured fabrics, such as tapestry or beading, over the typical sequins. And don't be afraid to coordinate your ensemble from head to toe with fanciful nails and smoldering metallic eye shadows to match.
Top off your look with a beautiful braid or voluminous curls, and you'll be all set. This year, you'll undoubtedly be the showstopper in the midst of all the holiday chaos.
Above, from left, on Sydney: Rose, navy, and silver DRESS ($89.95) and gold PUMPS ($39.99), both available at Lure
On Deryn: Flair out DRESS ($89.95) and nude HEELS ($39.99), both available at Lure
On Sherica: Gold beaded GOWN by Rachel Allan ($1,358), available at Camille's of Wilmington
On Sherica: Green two-piece Ball gown by Sherri Hill ($480), available at Camille's of Wilmington; 1920s vintage Jacket ($85), available at Second Skin Vintage
Photographer: Janet Adamson, Janet Adamson, JA Images jaimages.biz
Stylist: Jessica De Vault, jessicadevault.com
Models: Deryn Hensley and Sherica Small, of Directions USA; Sydney Miller
Hair: Kate Bailey, Facebook.com/KateBaileyHair
Makeup: Danielle Forte, Facebook.com/DanielleForteMakeupArtist
Nail Artist: Chaquetta Floyd of Aha! Salon & Day Spa
Fashion Assistants: Caitlyn Campagna and A'ngelia Fonville
Photo Assistant: Tamica Katzmann
Location: The Murchison Building, 201 North Front Street