Connecting Food & Community
GrubSwap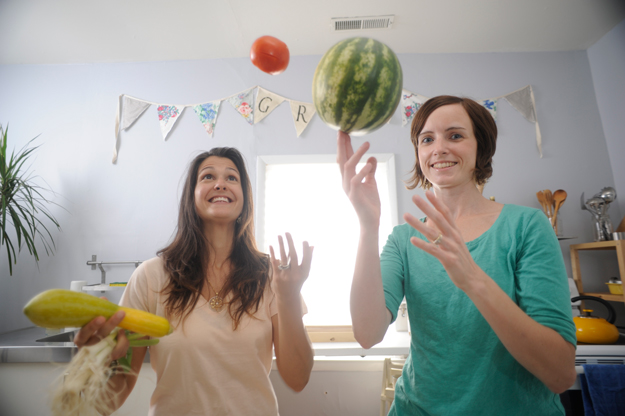 This summer brought GRUB and Port City Swappers to Wilmington.
On the surface, these two groups don't have a lot in common. One is focused on classes, meetings and food demonstrations devoted to making more conscientious eating choices. The other is a way to barter your homemade and homegrown goodies for others. But organizers for both groups want to focus on community and see exciting things happening on the local food scene.
Switcheroo
The Port City Swappers is based on an idea that's taken place in other communities. The concept is simple: take your extra garden-grown vegetables, homebrews, pickles, jams, jellies or other goods to a once-a-month meeting to swap. "Basically, you can bring anything homemade," organizer Brent Dober said. "Nothing store bought."
You place samples of your breads or crackers or fruits out for others to try and list on a sheet of paper what you might be willing to trade for something. It could be a barter of homemade beers for some pesto or a loaf of zucchini bread for a dozen eggs. No cash is exchanged, and none of the food is sold.
At the first swap in June, more than 40 people came – an amount that far exceeded the Swappers' expectations. The next month, more than 70 people RSVPed to the event. Registering isn't necessary, but it is encouraged because it lets organizers know how many tables to bring. The entire event is free.
"We have no intention of making money off of it," Dober said. But the group does sell Swapper T-shirts to offset some of the expense of hosting the meetings.
For those who want to try it out, there's no need to be intimidated. "People are cool about it," said Andy Myers, another organizer. "It's all done in a good spirit."
As far as what to bring, they said to go with what you do best, whether it is the bounty of your garden or the prowess of your baking skills. "I have so much of my own homebrew," Dober said. "I'm much more excited about what everyone else is bringing."
The swaps take place on the last Sunday of every month, usually on the grassy lawn at 4th and Castle streets in downtown Wilmington.
Get your GRUB on
GRUB was founded by two women who met though a common interest in eating for better health.
"We started making better choices, and everything fell into place," said Ryanna Battiste, who formed the company with Jordyn Zimmerman. They operate their business in a house at 2133 Wrightsville Ave. in Wilmington, sharing the space with another group.
The home-like atmosphere offers room for meetings, a kitchen for demonstrations and a display of a few items for sale like locally made bowls. Battiste said she started changing her diet when she learned her son had several food allergies – and along the way she found that she had a problem with dairy.
"It was a realization," she said. "It was milk all these years!"
Zimmerman's journey started in 2005, when she was diagnosed with Crohn's disease.
GRUB provides a range of services for people who want to make their own changes.
"We are a big believer in small steps, in making one small change to see if you feel better," Zimmerman said. They also believe that no one diet or eating program is right for everyone.
"Food is very bio-individual," Battiste said.
At GRUB, you can find a free weekly Conscious Eating Circle, designed with support in mind. They also have workshops and classes on topics such as the Nourishing Pantry (which discusses quinoa, coconut oil and apple cider vinegar, among other things), Sprouting 101 and Gluten-Free Kitchen.
They also plan to offer monthly food challenges with regular meetings, email support and recipes. In August, a group completed a 21-day Sugar-Free Challenge.
A kitchen basics class is $10; others are $20 and the challenge, for example, is $60. The pair also offers individual counseling.
For more info on GRUB or Port City Swappers, visit: www.thisisgrub.com or www.facebook.com/PortCitySwappers.
To view more of photographer Jeff Janowski's work, click here. www.jeffjanowski.com