Confidence Boost
Missy Boneske Started Operation Pretty Things as a Nonprofit to Help Women Domestic Violence Victims Living in Shelters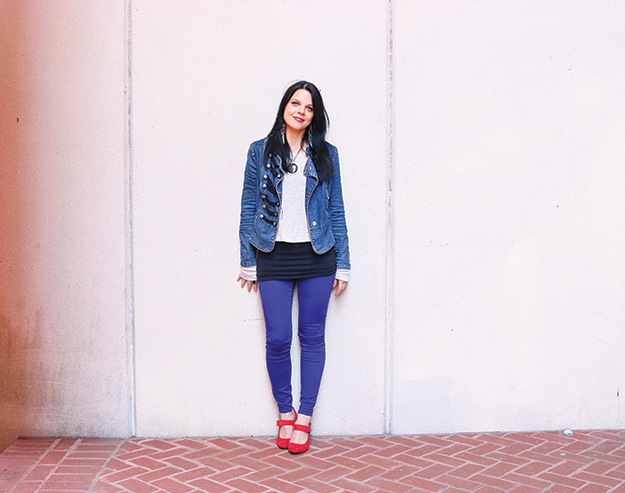 Imagine landing an interview for a job that will help you get back on your feet. One that will provide food, clothing, and shelter for your children; employment that will give you a sense of normalcy, a sense of purpose. But, imagine not being able to wash your face before the interview or getting prepped with makeup to walk in with confidence. What we take for granted, women who escaped domestic violence and are living in shelters need.
In 2007, MISSY BONESKE, founder of Wilmington-based nonprofit OPERATION PRETTY THINGS, and some friends decided instead of exchanging Christmas gifts to create gift packages of pretty things such as cosmetics and deliver them to the domestic violence shelter.
"I walked into the shelter, and the floor was covered with toys for the children, but there wasn't a single thing for the moms," she recalls. "And, I thought, 'This will not do.'"
The following Christmas, the group of girlfriends asked their friends and families to join them in making gift packages. That year, they delivered 138 gifts to those in need.
In 2009, Boneske began Operation Pretty Things and has since expanded gifts of not just pretty things, but services too, into sixteen counties in North Carolina as well as in Florida and New York.
Nine out of ten women in shelters are mothers, the group points out.
Gifts such as lipstick, mascara, or a hairbrush from Operation Pretty Things are simple. More importantly, those gifts become tools that can boost a mother's emotional stability and overall wellness.
Boneske recalls that one woman told her, "You could have given me a bag full of tissue paper, and I would have loved it because it meant someone was thinking about me."
"Shelters have a limited amount of funding," Boneske says.
"We are an on-call lifeline, providing gifts containing tools used to prepare survivors of domestic violence for job interviews, court obligations, and overall health and wellness and emotional stabilization."
Instead of calling multiple businesses, shelters contact Operation Pretty Things for assistance ranging from black pants to help a woman meet an employment dress code to transportation from the hospital to a safe place.
"I think we live in a really great community. We have a city full of people who have the capacity to help," Boneske says. "They just need to know where they can offer their services." People often ask Boneske, 'What can I do?' And she replies, 'What do you do? These women need everything.'"
Boneske stresses that Operation Pretty Things doesn't just give the gifts to help women can get a job.
"The tools we provide equip a woman to do just that, but it doesn't stop there. OPT (Operation Pretty Things) is about empowerment and establishing a sense of self and selfworth," she says. "Operation Pretty Things extends love in a tangible way and meets a need on a very personal level – and a feminine one. We all desire to feel beautiful, wanted, and worthy. At our very core, we all long to be loved. We are taught that in order to make a difference, we must do something outrageous, something extraordinary. We have lost sight of the simple fact that even a small gesture of kindness and a simple tangible extension of love can save a life – to love outrageously is simply to love."
How to Help
"What we need is what they need," Boneske says.
Businesses can join the group's Black Box Initiative and host a donation box. Businesses also can donate services such as haircuts and manicures.
Individual donors can drop off new cosmetics at locations across town including The Harrelson Center at 20 North Fourth Street or Port City Java at 5621 Carolina Beach Road. More locations are listed on the Operation Pretty Things website (operationprettythings.org).
Volunteers to assemble the gifts are also welcome as are financial contributions to supplement donated items and to expand services.
A Hope Sponsorship of $25 a month covers gifts and services for one woman for a year. Boneske doesn't rely on government assistance because she believes a community can take care of its own.
"There are more than 1,600 domestic violence shelters in this country," she says. "Ultimately, I want Operation Pretty things to have a presence in every single one of those."
To view more of photographer Terah Wilson's work, visit www.terahwilson.com.
Want more WILMA? Sign up for our WILMA Weekly email and announcements at WILMAOnTheWeb.com.