Community Through Content
Sara Rose Harcus takes on inbound marketing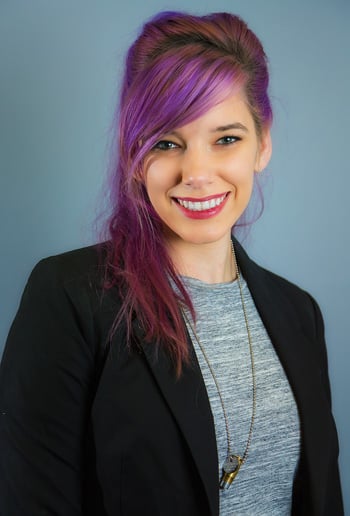 The first thing you notice about SARA ROSE HARCUS is her long mane of bright, purple hair. The second is her passion for Hüify, the inbound marketing agency in Wilmington she founded with her husband, Josh, in 2012.
Inbound marketing is a strategy for industries conducting business in an online world.
"Marketing is changing," Harcus explains. "When you want something in today's world, the first thing you do is Google it."
Inbound marketing helps businesses rise to top of those search results, and companies from a variety of industries have started paying attention to the strategy. This is obvious from the list of Hüify's clients, which includes companies that range from tech startup Next Glass to Tidal Creek Food Co-op.
As Hüify's head of content development, Harcus focuses on drawing in and delighting her clients' customers with content that's relevant and helpful, rather than disruptive or annoying, she says.
"Consumers today have more control than ever before," Harcus says. "They can avoid the ads they don't want to see. Our goal is help consumers discover our clients on their own terms."
The name Hüify is a portmanteau of the words "humanize" and "personify," two of the company's guiding principles. Hüify's strategies are based on metrics. "If you can't measure it," Harcus says, "don't do it."
Harcus didn't actually study business in college. She majored in chemistry at University of North Carolina Wilmington and originally planned to go to medical school. Those plans changed once she met fellow student and future husband, Josh. When they got engaged, they decided to combine their lives as well as their dreams.
Harcus and her then-fiancé walked across the stage to collect their degrees one cool morning in December. Later that day, they celebrated another milestone – the start of their marriage.
"We figured everyone was already in town for graduation," Harcus explains, laughing. "So it made sense to have our wedding on the same day."
As she and her new husband founded their business, Harcus soon discovered that her science background transferred to the marketing world in unexpected ways.
"I was able to use my analytical and reporting skills especially when combing through data and metrics," she says. "In it's own way, marketing is a science, too."
Harcus is also a skilled writer, a strength she brings to the company when crafting content for their clients.
Outside of work, Harcus enjoys spending time with her husband and their dog, Baloo the Brave, and working out at Port City Crossfit.
"It's a really cool community," she says. "There's this stereotype that entrepreneurs are coffee guzzling workaholics, so we try really hard to avoid that and stay balanced."
As Hüify continues to grow, that balance will become even more important. The company recently moved to a larger space to accommodate its staff and plans to hire more employees soon. Harcus isn't worried, though. The couple's business is based on partnerships – with their clients and with each other – which gives them a unique advantage.
"A lot of people say, 'Oh, I could never work with my husband,'" she says, laughing. "But I think it's the best thing in the world."
To view more of photographer Chris Brehmer's work, go to www.chrisbrehmerphotography.com