Color A La Carte
Lovely in layers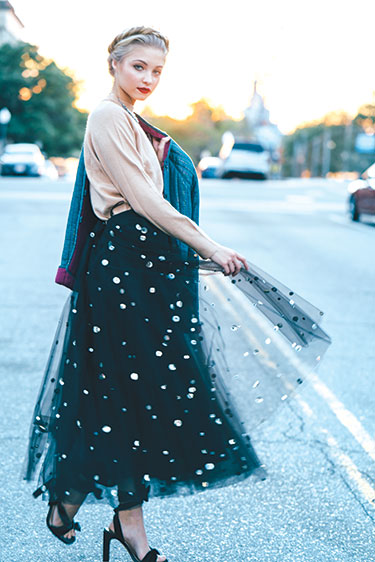 From a subtle hint of cardamom in a pasta sauce to a bold dollop of foie gras atop a powder ed doughnut, a chef 's greatest achievement – and a diner's greatest pleasure – is harmony amongst flavors. A good chef knows how to layer tastes to make a dish pop, and your inner Anna Wintour can do the same. So as temperatures chill, seek out some new layers of your own: vests, blazers, overcoats, and even overskirts are all rich ingredients to add flavor to your winter wardrobe.
– NINA BAYS COURNOYER
All items available at Jess James & Co.
(Above) 1950s tan mock neck SWEATER ($45), Indian metallic jacket ($55), black tulle sequin SKIRT ($100), and coro art glass NECKLACE ($65)

Navy silk with gold buttons midi SKIRT ($52), plaid ruffle BLOUSE ($62), red felt HAT ($42), and Mop flower clip EARRINGS ($25)
Black floral peplum DRESS ($125), red Asian silk reversible JACKET ($85), red/black Lucite BANGLE ($28), and Sputnik EARRINGS ($32)
Helmut Lang marble DRESS ($95), Lanvin navy PJ TOP ($225), and Mop flower clip EARRINGS ($25)
Carliste navy dot BLAZER ($65), and red felt HAT ($42)
Emerald green velvet maxi SKIRT ($48), 70s suede short JACKET ($80), Built by Wendy white BLOUSE ($68), W & D mesh flapper bag ($130), turquoise feather pillbox HAT ($65), and Mop flower clip EARRINGS ($25)
Star DENIM ($58), suede ruffle TOP ($68), Ralph Lauren plaid blazer ($58), and gold long NECKLACE ($28)
MODEL: Morgan Sonnendecker (Directions USA)
HAIR: Brandy Alexander (Groove Jet Salon + Spa)
MAKEUP: Brittani Antoinette
LOCATIONS: manna, 123 Princess Street Bespoke Coffee & Dry Goods, 202 Princess Street
See more photos by Melissa Herbert Photography www.melissahebert.com