Cold Comfort
Outer[wear] beauty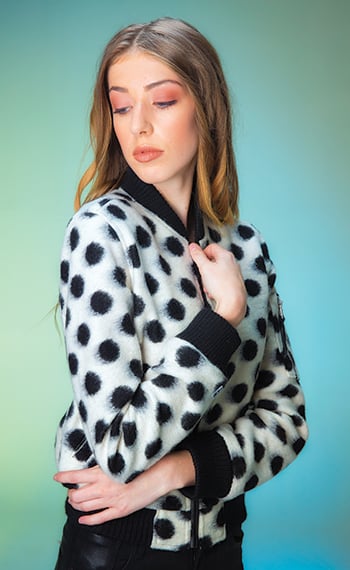 A bomber jacket covered in dots? Yes, please. Whether it's zipped up or worn open with a top that has a pop of color or subtle print, this jacket has endless styling possibilities.
La Ruine bomber JACKET ($143), left, available at Oliver
During the fall, we can take joy in layering and creating fresh and unique looks. But those efforts are often overshadowed by our outerwear, especially during the thick of winter – when avoiding frostbite trumps our fashion aspirations.
Boring, burly coats aren't the only solution to our cold-weather conundrums. You can be just as cozy in couture, thanks to this season's stylish outerwear. There are plenty of options to choose from.
The cape jacket has been popular for a few years now, but in camel and wool, it's updated for this winter. The staple jeans-and-sweater combo takes on a whole new look with this trendy coat.
Wool CAPE ($282), right, off-the-shoulder TEE ($108), and leather PANTS ($198), all available at Oliver; tall BOOTS ($168), available at Soul Shoetique.
They don't call the trench coat a classic for nothing. This ubiquitous jacket is a common staple. The suede material, however, in this particular trench makes it a great choice for fall or a slightly warmer, Southern winter.
Wrap SHIRT ($176), below, and suede TRENCH COAT ($580), right, both available at elle; straight authentic crop JEANS ($245), available at Oliver, platform HEELS ($58), available at Soul Shoetique
MODEL: Scarlett Randall
STYLISTS: A'ngelia Fonville and Jessica De Vault
PHOTOS: Chris Brehmer
HAIR: Kate Bailey
MAKEUP: Danielle Forte
LOCATION: 2nd Space Studio, 221 N. Second Street