Cold Buzz
Wine and spirits show up in summertime frozen treats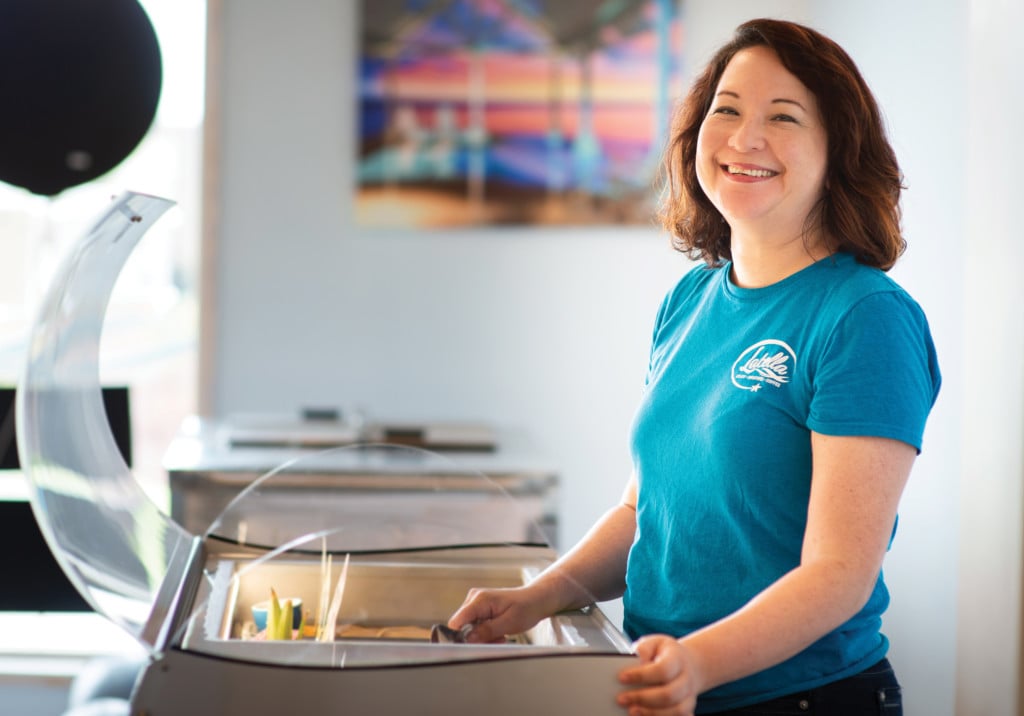 It's a hot trend taking over a cold treat: alcohol-infused gelato and ice cream. And some local shops are diving into this latest food frenzy headfirst.
LATELLA GELATO on the boardwalk in Carolina Beach offers homemade, wine-infused gelato in flavors such as kiwi sauvignon blanc, strawberry lemonade moscato, and pineapple guava riesling. With so many options, there is a gelato to suit every wine lover.
At BUZZED BULL CREAMERY in Wilmington, ice cream also is optionally infused with various spirits.
The Cincinnati-based franchise opened a Wilmington location last month inside Roll On In at 3224 North College Road.
Like Latella Gelato, Buzzed Bull Creamery specializes in hand-crafted frozen treats – from ice cream to milkshakes, with or without alcohol.
Latella Gelato owners JEANIE SHAFFER and husband, ERIK DIETRICH, have been making gelato, the creamy Italian version of ice cream, from scratch for the past three years. At the end of last summer, they began experimenting with wine-infused gelato, available on weekends.
"We are always looking for opportunities to set ourselves apart from other venues," says Shaffer (above).
"I'm the adventurous one," she adds, explaining that the idea of alcohol-infused gelato was hinted at during a training class she and her husband attended from Carpigiani Gelato University in Winston-Salem. Here, she learned the secrets of artisan gelato-making.
Named in honor of Dietrich's grandparents, Mario and Valerie "Chickie" Latella, the shop opened serving gelato, frappe, shakes, sorbetto slushies, smoothies, coffee, and espresso. Over three years, Shaffer says she has created more than 300 "trade secret" gelato recipes – calling it a combination of food science and math.
Adding alcohol to gelato proved to be a different challenge.
"Alcohol is a super sugar, which changes the consistency of the gelato. Everything is tested right here in our kitchen," Shaffer says.
They use farm-fresh seasonal fruits and avoid additives when possible. Working with wine distributors, Shaffer continually searches for "weird, oddball wines" that would pair well with fruit.
"I am fearless about flavors. I like to try new spices, herbs, essential oils, and fruits," she says. "I've tested over a hundred different wine-infused recipes so far."
In addition to the always-changing twelve flavors of kid-friendly gelato every day, weekend rotations feature four of thirty wine-infused flavors.
The most popular flavor is Irish Coffee, a blend that includes Maloney's Irish Country Cream, which is made from Irish dairy cream with white wine and spirits. This summer, peach punch will be added to the menu.
"We don't cook out the alcohol," Shaffer points out. "A couple of recipes have a kick! Expect the unexpected."
Shaffer estimates that 15 percent of their sales on weekends comes from wine-infused gelato. "Kids can have their favorite candy or cereal flavor, while moms can have their favorite wine flavor," she says.
Because Shaffer created the recipes, she can answer questions about ingredient allergies. She caters to customers who ask for dairy free and vegan, and she gets ideas from customers' flavor suggestions.
"I never stop thinking about recipes," she says.
Ideas come to her while grocery shopping, watching TV, and visiting local bars to try the newest drinks.
"There are so many creative options," she says. "We have the opportunity to pursue beer-infused gelato, maybe chocolate hazelnut stout."
Latella Gelato's wine permit also enables serving wine by the glass or bottle, hard ciders, and wine "sloshies."
New this summer, is a gelato cart available for catering and for beach or outdoor weddings. It can serve both wine-infused and kid-friendly flavors.
For Shaffer, the perfect trifecta is "coffee in the morning, gelato all day, and wine in the evening."
"We are and will always be family-friendly," she says. "You never know when you will discover your next favorite flavor," Shaffer says.
To view more of photographer River Bondurant's work, go to riverbondurant.myportfolio.com.
Want more WILMA? Click here to sign up for our WILMA newsletters and announcements.