Coaches and Chiefs
Local powerhouses weigh in on how to build a dynamic team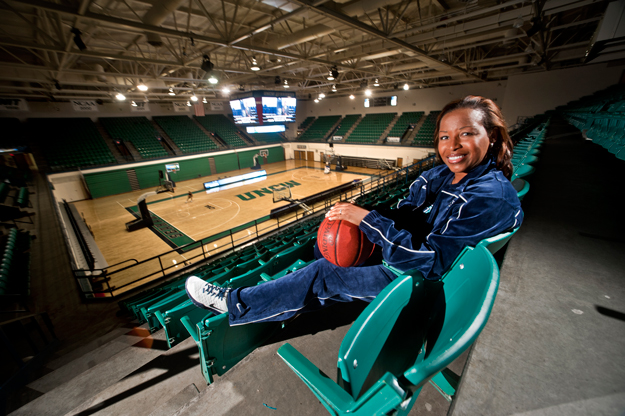 Women's NBA Hall of Famer and Olympic gold medalist Cynthia Cooper-Dyke had to re-think what had become second nature to her such as, defensive rotations and passing angles, when she became a coach.
"I am Cynthia Cooper, the Hall of Famer now. I was not at 18," she said. Remembering that was a challenge the UNCW women's head basketball coach had to overcome to be able to meet her players where they are. She is leading the Lady Seahawks in her second season this year.
Cooper-Dyke entered the game rather late in relation to other professional basketball players. She began playing basketball around 16 years old when she saw a girl at the gym pass a basketball around her back and lay it up. From then on, Cooper was hooked.
Her passion is alive at game-time at UNCW Trask Coliseum's court, where you often see her yelling. One-on-one on the sidelines, she said, though, she's really saying to her players: "I know you can do better. I know you can do this."
When she was a student athlete at the University of Southern California, her coach, Linda Sharp, showed her how to care about her players.
"I left USC, because my brother was killed in a gang fight. And my coach Linda Sharp and the assistant coach at the time, Fred Williams, came to Watts where I grew up, knocked on my door and convinced me and my mom that I should get back in school and that's where my future lied," Cooper-Dyke said. "That's the type of coach I want to be for my players."
Unexpected leadership
Being a business leader was not part of GE Hitachi president and CEO Caroline Reda's original career plan. But her mentor and first boss at the company 27 years ago encouraged her to give it a try.
"I remember he told me, 'How do you know if you're going to like it, if you don't give it a try?' So, that was my challenge and I tried it. And sure enough, I loved it," said Reda, who returned to her hometown about a year ago to head up the company from its Castle Hayne headquarters.
Leading people was also new to architect Christina Maroulis-Ollie, who oversaw the design, planning and construction of the $245 million Betty H. Cameron Women's and Children's Hospital. She is New Hanover Regional Medical Center's director of planning and construction.
"I'd always been on teams through school. I played basketball and volleyball. I know how teams work from participating. And, I know what I admire about great teams by watching how they perform," she said. So, when she took on the role in 2005, she brought in a consultant to facilitate team-building exercises for her crew of architects, engineers, construction managers and superintendents. They took personality tests to learn more about each other, which identified the introverts, extroverts, detail-oriented minds and big picture thinkers.
"It's amazing how all of that informed how we interacted with each other from there on out," she said.
Building the team
Last year, Brunswick Community College women's head basketball coach for Ashlyn Burke described as a "teaching year." The majority of her players were freshmen living away from home for the first time.
"You have to teach them, 'This is what I expect. I'm going to show you the respect. You've got to show me the respect,'" she said. And, this year has been transformational. The same players have stepped up and are teaching their teammates what Burke had taught them last year.
"Instead of me always having to say it, now they are taking that role. As a coach, I think that's one of the most rewarding things when you see young women taking that [leadership] role," she said.
Coach Cooper-Dyke agrees. "I think every coach would love to have it come from a player," she said. "When you give your expectations of them, they want to be mentors for the younger players."