Chuckles for a Good Cause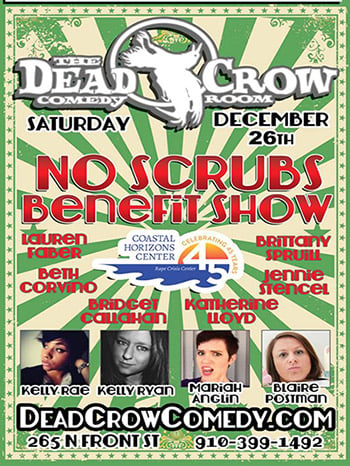 Dead Crow Comedy Room hosts a lineup of female comics this week.
The two shows Saturday night feature performers from around the region, says Blaire Postman, a comic herself who is helping organize the event.
"Timmy Sherrill and Cole Craven, who own Dead Crow, had been wanting to do another show for a while that featured female comics," she says. "I'd expressed some interest, so when they saw December 26 was available, they started planning and asked if I'd help."
"As great as the women on the show are, the line up could have easily been booked three to four times over with different comic lineups just with the people we already know personally within a two hour radius of Wilmington," Postmas says. "The show was kept to people who were more or less based in a two-hour drive or so since these shows are the day after Christmas and tried to make it not to crazy on everyone."
Scheduled to appear for the No Scrubs Comedy Benefit Show are: Postman, Bridget Callahan, Beth Corvino, Mariah Anglin, and Kelly Rae as the host. Coming from out of town are: Brittany Spruill (Myrtle Beach), Kelly Ryan (Raleigh), Katherine Lloyd (Durham), Lauren Faber (Durham), and Jennie Stencel (Greensboro).
Those involved with pulling the show together also wanted to make it a benefit.
They want to showcase the depth of talent from around the Carolinas, Wilmington included, Postman says.
"There are so many worthy causes out there, but we felt it was appropriate to focus on one that primarily helped women in need, that was locally based and one that could use a little extra attention – which, really, most of them need," Postman says.
Organizers picked Coastal Horizon Center's Rape Crisis Center, which provides around-the-clock crisis response, counseling, and other services.
"Our goal is to use a fun night of blowing off holiday steam to highlight an important, but often overlooked, community resource," Postman says.