Chicken Chic
Annual chicken coop tour highlights growing trend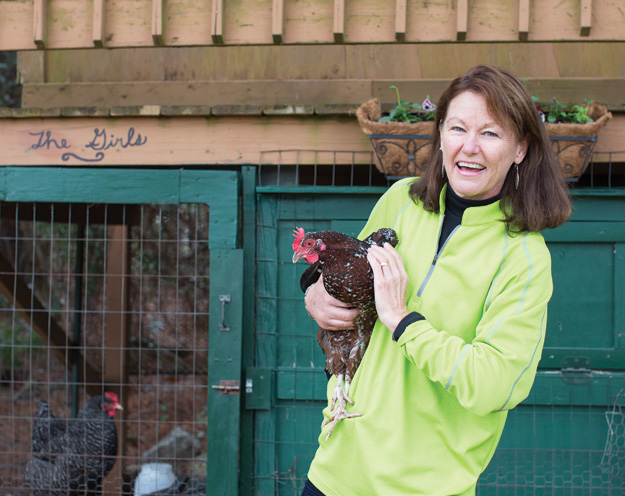 Walk through any neighborhood in Wilmington, and the odds are high that you'll hear a chicken's telltale cluck. It's not because our cities are reverting back to farmland, but rather because urban chickens and
backyard coops are on the rise. The trend is becoming so popular that many cities (including Wilmington) are rewriting their ordinances to accommodate this sudden spike in feathered friends. While the reasons for getting chickens are as diverse as the folks who keep them, one thing is certain: you'll need a coop.
While chickens don't require anything fancy – secure walls, a place to roost, and a quiet spot for egg laying are the essentials – many chicken keepers have turned their coops into a creative outlet, crafting hen houses that range from humble home to poultry palace. If you'd like to see these creations for yourself, you're in luck. The annual COASTAL CLUCK COOP TOUR takes place April 25, and everyone's invited.
Hatching the Plan
DENISE CULLER had been keeping chickens for about two years when she stumbled upon the world of coop tours.
A friend sent her an article about an event in Dallas, and Culler was smitten. After doing some research she learned that coop tours were popping up all over the country, but the closest one to Wilmington was two hours away. Instead of lamenting Wilmington's loss, Culler decided to take matters into her own hands and start a tour herself.
Despite her enthusiasm, she faced a few obstacles. The main one was that she didn't know any other local chicken keepers. She and two friends started asking around, putting up signs at farm and garden stores, and creating a Facebook group. Her fellow "coopers" heard the call and quickly began to flock together. That spring, the Coastal Cluck Coop Tour was born.
Birds of a Feather
The first tour was held in April 2012, and it featured ten coops. Last year that number swelled to sixteen. The stops
on the tour aren't the only thing growing in number – the crowds are getting bigger, too.
"In our first year we had about thirty people visit each coop," Culler says. "Last year, we had over 130."
Even the group's Facebook page reflects Wilmington's growing interest in chickens and the coopers who keep them. At last count the page had 400 likes, with a number of posts from fans expressing excitement over this year's event.
The tour itself is modeled on other local events such as the Azalea Festival garden tour and the Hobby Greenhouse Club tour.
Culler creates a map of the participating coops, suggesting routes that guide visitors through one area at a time. With coops spread out from Myrtle Grove to Porters Neck, it can take a few hours to hit them all.
Most people make a day of it, ending the afternoon at Poplar Grove, widely viewed as the tour's highlight.
"Poplar Grove is so excited to be a part of tour," Culler says. "They're putting together a petting zoo with horses, donkeys, sheep, pigs, goats – everything."
The map and directions will be posted on the group's Facebook page, and the tour is free. Visitors are asked only to bring a canned good for Mother Hubbard's Cupboard, a local food bank.
"Last year we collected three carloads of donations," Culler reports.
It's a record organizers hope to break this year.
A Homegrown Revolution
While backyard chickens are enjoying a revival, Culler believes the lifestyle is more than a passing trend.
"Keeping chickens is easy," she says. "A lot of us think of our chickens as pets and treat them as part of our family."
Unlike a dog or a cat, however, a chicken is a pet that can also make you breakfast.
This, of course, is the main reason people are keeping chickens. The ability to collect a dozen or so eggs per week, all from the comfort of your own backyard, is appealing to them.
Chicken enthusiasts swear the eggs are better than anything you can get in a store, and they're served with the satisfaction of knowing exactly where their food came from and how well the animals were treated.
"When my son is home from college, he eats five eggs every morning for breakfast," Culler says. "When he's not around, we have plenty to share with friends and neighbors."
Coastal Cluck Coop Tour
April 25
Locations and info posted on tour's Facebook page: Coastal-Cluck-Coops
To view more of photographer Megan Deitz's work, go to www.megandeitz.com