Chefs Collective
40 Eats Group Brings Together Local Restaurants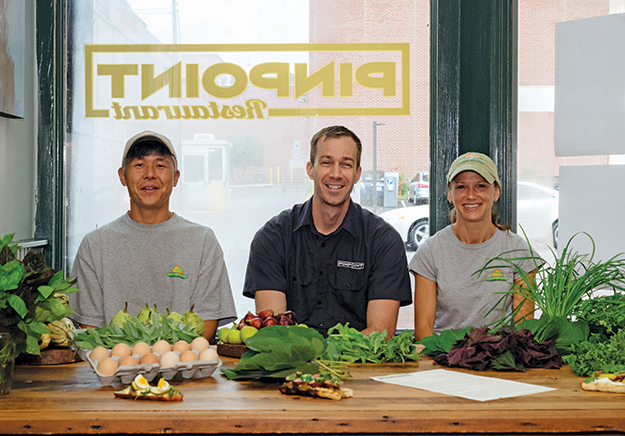 From the beaches and the battleship to museums and the Azalea Festival, visitors flock to Wilmington for a variety of reasons. Its culinary scene – not as much.
Billy Mellon of manna aims to change that. Four years ago, Mellon worked a charity function in Boulder, Colorado. A local chef invited Mellon to a Sunday evening conversation with Denver chefs.
"Basically all these chefs came to his restaurant after a long week. They all brought a little bit of food, some beer, and discussed openly among themselves trends in food, health department issues – almost helping one another out." Mellon says. "I liked the continuity. They seemed to be amicable among one another, and it triggered something in me, 'Why don't we have that here?'" Mellon says there is a perception in the restaurant business that all are competing against each other.
"In reality, there are more customers than we could all handle," he says.
He kept brainstorming. One day while driving, he saw the Interstate 40 East sign and inverted the T and S. And there it was, 40 Eats.
"So instead of this exit you have hotels, and that exit you have gas, we put a plate, the spoon, the wine glass, the tractor, the pig, the chicken … and that's Wilmington," he says.
Mellon reached out to Keith Rhodes at Catch, Tommy Mills with Little Pond Caterers, Anne Steketee and Shawn Wellersdick at Port Land Grille, Dean Neff of PinPoint Restaurant, an James Doss of Rx Restaurant and Bar and Pembroke's to see if they would be interested in something that would widen the lens on Wilmington.
"Wilmington is an up-and-coming town in a lot of ways. And food is part of that," says Neff. (shown with Joe Choi, left, and Nicholl Gleason from Wholesome Greens LLC).
"What we hope to do is start a conversation about local food – talk about the stories and the ingredients and the abundance of the amazing food right here," says Dean Neff.
Sharing resources is an immediate benefit to the collective, which just added Christi Ferretti and Kathy Webb-Ferretti of Pine Valley Market.
The collaborative consists of several smaller restaurants.
"This means you have to be … mindful of sourcing ingredients, using everything, and make sure you're bringing in the best ingredients, even though you're a small restaurant," Neff says.
He gives the example of ordering grains.
"Anson Mills (in Columbia, South Carolina) requires a sixty-pound minimum order. Grains are in high demand and are usually $6 a pound. I can call Billy and say, 'I'm doing an Anson Mills order. Do you want to piggyback anything on that?'" Neff says. "It allows us to split the cost of getting stuff up here."
The collaborative also shares its network of butchers, farmers, and fishermen.
"It's helpful to be able to call (a colleague) and say, 'You know what? This farmer has great butterbeans right now,'" Neff says.
The group is also interested in connecting with local charities by hosting community dinners to raise both money and awareness for various local causes. In July, diners had the opportunity to sample the talents of these top chefs. A five-course feast at Bakery 105 benefited Oasis NC, an autism support organization, and the culinary program at Cape Fear Community College.
"It was so amazing to see such talented chefs come together to support our local autism community. Not only was the food fantastic, but every bite counted towards scholarships for our students and their families," Oasis Director Erika Merriman says.
Mellon says he hopes that also supporting local culinary students will encourage them to remain in the area.
"We want the tourists to come visit us. We want our neighbors to visit us. And we want those who graduate high school and college to stay here and work with us," he says.
Wilmington certainly has the talent. Rhodes competed on Top Chef in in 2011 and is the city's only chef to earn a James Beard Award nomination. Neff worked with celebrity chef, restaurant owner, and Top Chef judge Hugh Acheson in Georgia. While this helps bring national attention to the area, the 40 Eats group knows it will take time to promote the region's restaurant scene to a larger national audience.
"Right now, people look at Charleston, Raleigh, Durham, Asheville, Atlanta, Richmond as culinary destinations. The idea is to promote Wilmington as a culinary destination for tourists," Mellon says. "We also want to remind Wilmington foodies they don't need to travel to Atlanta or Chicago to eat at places featured in Food & Wine and Wine Spectator. Save your money. Just eat here. We have great restaurants."
To view more of photographer Erik Maasch's work, visit ejmphotography.org.