Chef Food Fights
Best pizza in town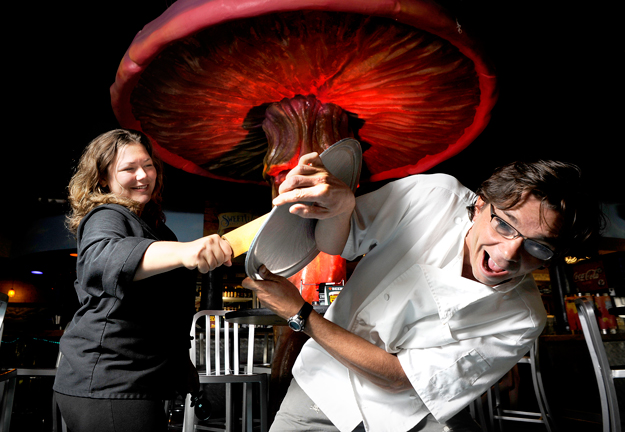 The last two Wilmington-based chefs in the local Fire on the Dock cooking competition, MARC COPENHAVER of Marc's on Market and KIRSTEN MITCHELL of Cameo 1900, obviously know a thing or two about crafting meticulous courses on the fly. After all, dishes like Butter Poached N.C. Shrimp with Celery Root puree, Shrimp Popover with Pickled Celery and Two Cheese and Beer Soup with Chorizo, Spinach, Porcini Mushrooms and Chicken Ragout, landed them in the semifinal rounds of the local leg of the statewide cooking competition.
But it can't always be fine dining. Sometimes, you just want a good slice of pizza. So, WILMA asked them where they go for their favorite slice.
Copenhaver's background includes a number of cross-country influences with a heavy emphasis on the fresh California cuisine of Napa Valley. It's no surprise, then, that he and his family often enjoy some of those same flavors at Mellow Mushroom when they're not working at their own Market Street restaurant.
"We go there a lot," he said. It has the funky eclectic vibe he appreciates, and it has the added benefit of appealing to the youngest Copenhaver. The family gets parmesan pretzels and the Mellowpolitan pie with Italian meats and cheese topped with salad greens and balsamic glaze.
Copenhaver does have an honorable mention, though.
"There are lots of different styles of pizza," he said. "And you don't always want the same one."
When he and his family are in the mood for something more New York-style, they like Nino's Pizza at Eastwood and Market streets.
Mitchell, on the other hand, has been known to be adventurous crafting her tapas-style menu at Cameo, incorporating frog legs and rattlesnake with a variety of ethnic flavors. It's no surprise that she looks for added accoutrements when it comes to pizza.
"I go to Siena a lot for pizza," she said. "It's homemade and they have great toppings."
Her pick is the Florentine.
"I love the olives," she said. It also comes with sautéed spinach, feta, garlic and tomatoes. But, she also points out that other artisan styles on the menu include prosciutto, homemade mozzarella and carmelized onions.
If you'd like to check out the chef picks for pizza, Siena Trattoria is located at 3315 Masonboro Loop Road. Mellow Mushroom is located at 4311 Oleander Drive in Wilmington and 224 Causeway Drive in Wrightsville Beach.