Chef and the Benefit
Vivian Howard visits Wilmington for dinner event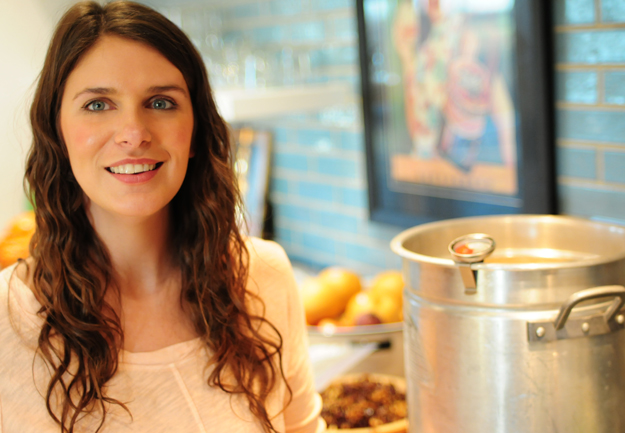 About four years ago VIVIAN HOWARD was invited by her neighbors to make collard kraut.
Chef Howard, a James Beard Foundation Award semi-finalist and owner of Chef and the Farmer in Kinston, thought she pretty much knew everything there was to know about the food from eastern North Carolina. But the kraut surprised her, leaving her feeling both "electrified and excited." It's those kind of moments that reaffirm her mission to operate a fine dining restaurant featuring locally sourced food.
"Our concept for the restaurant is really centered around the food that I grew up on, though showing it in a more modern way, making it interesting for all walks of life," she says. "We rely heavily on our community for information about these foodways and for support, as well as the ingredients themselves."
Howard's passion for local food combined with her desire to serve the community makes her the ideal chef to be featured at an upcoming fundraiser to raise awareness about rare genetic diseases.
The June 13 dinner event at manna will raise money to complete a documentary about Wolfram syndrome called A Light in the Shadows. manna proprietor Billy Mellon met Howard at another charity event in Raleigh several years ago, and the two have been looking to collaborate ever since.
"There isn't any greater culinary talent in the state than Chef Howard," Mellon says. "Her involvement validates her commitment to the restaurant community – particularly in southeastern North Carolina and will enhance what it is that is offered that night for our guests."
Howard's fundraiser will be followed in July with manna's annual dinner to benefit the Ellie White Foundation for Rare Genetic Disorders. Ellie is one of the documentary's subjects, and the foundation works to find cures for Wolfram syndrome and other genetic diseases that receive little or no federal or private funding.
The dinners draw big names from around the state. Last year's featured guest was Raleigh restaurateur Ashley Christensen, who recently received the James Beard Award for top chef in the Southeast. As of mid-May, Mellon had not yet announced the chef for the July event, but updates are being posted on manna's website at www.mannaavenue.com.
Howard says the documentary benefit dinner takes place during her favorite time of the year for cooking.
"And June is the best time for corn, so I would imagine lots of corn, squash, berries, and hopefully we'll have some tomatoes by then," she says. "I like to cook with fruit in a savory fashion, and summer is a wonderful time for that."
Howard and her husband, Ben Knight, relocated from New York City to Kinston where they opened Chef and the Farmer in 2006. Neither Howard nor Knight envisioned settling in North Carolina while working in Manhattan restaurants and operating their own small catering business. Not many people would venture to rural North Carolina to open a fine dining restaurant, but the support of her family combined with her desire to stay true to the principles of farm-to-table cuisine led them to Lenoir County.
"We were very aware of the fact that our particular corner of eastern North Carolina is extremely economically depressed, and so we set out with the goal to help transform the state of the economy," Howard says. The restaurant currently sources over seventy percent of its ingredients from within sixty miles.
With the help of a filmmaker, she also set out to document some of these dying food traditions – like collard kraut – that utilize ingredients specific to the region. The result is A Chef's Life, a Peabody Award-winning PBS documentary that offers a window into Howard's relationship with local farmers and community members, as well as her adaptations of traditional Southern cuisine.
Operating a fine dining restaurant in a rural small town is not without its challenges.
Farm to table means changing your menu daily based upon what's available. What you anticipate coming in the door might not be what actually arrives. The chef and kitchen staff are constantly creating new dishes, not simply cranking out the same menu night after night. Fine dining requires a lot of time spent educating the service staff not only on service techniques, but on food and wine as well.
Following a devastating kitchen fire in 2012, the Chef and the Farmer was forced to close down for more than four months. Although this was a major setback, a few good things did come out of it, according to Howard.
Fortunately their insurance allowed for them to continue to support their staff financially throughout the rebuilding process, and the staff was largely involved in the effort.
"We pretty much reopened with the entire staff we had before the fire, so it was really like this giant team building exercise. And while it was a terrible thing, it ended up making us a much stronger unit," Howard says. "Because we had to rebuild the kitchen, we had the opportunity to make a few tweaks to the design to make it more effective."
Another positive was that during the time the restaurant was closed, Howard was able to enjoy some additional time at home with her children. As the mother of three-year-old twins, she struggles to find a balance between work and family. Despite often being exhausted, she tries to make her time at home with her children special, even if that means curling up in front of a movie.
"We're fortunate to have a lot of family to lean on, and we depend a lot on people to help us make this wheel go round," Howard says.